Event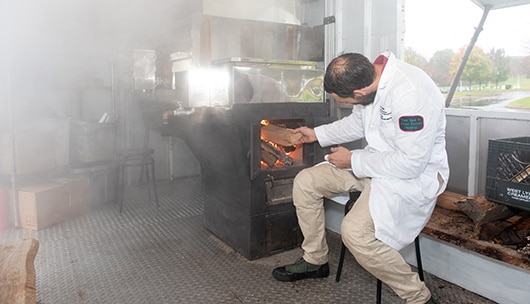 ARTS
Community Panel Discussion: Tree Spa for Urban Forest Healing
An open discussion on the project, Tree Spa for Urban Forest Healing, featuring artist Colin McMullan and a distinguished panel of speakers:
– Shubhada Kambli, Sustainability Coordinator from the Office of Hartford Mayor Luke Bronin
– Chris Newell, Passamaquoddy Indigenous Educator and Director of Education at Akomawt Educational Initiative and Educational Supervisor at the Mashantucket Pequot Museum and Research Center
– Herb Virgo, Founder and Director of Keney Park Sustainability Project
– Lauren Little, Environmental Education Coordinator at KNOX
– Colin McNamara, Steward Chair from Manchester Land Trust
– Moderator: Linda Weintraub, curator, educator, artist, and author of books about contemporary art with emphasis on environmental consciousness.
About Tree Spa for Urban Forest Healing
The project uses commercial maple syrup production equipment to produce steam for a functional steam room, creating a healing venue for environmentally-charged conversations and experiences.
This social/public project by Colin McMullan, has multiple community partners in Hartford, including Keney Park Sustainability Project, the Hartford Maple Syrup Club, and KNOX.  
The Tree Spa provides a space to think about histories of land connection and displacement in the settlement of New England.
The project represents a vision for synthesizing complex social and environmental issues, by a holistic approach to building urban/rural community and reconnecting with the Earth.
More about Tree Spa for Urban Forest Healing here.
Originally commissioned by Artspace, Inc, for City-Wide Open Studios with support from the National Endowment for the Arts, and the Connecticut Office of the Arts.