Event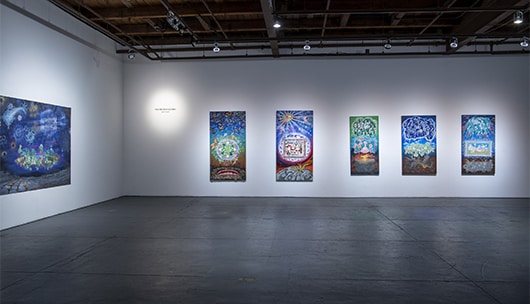 ARTS
Then The Morning Comes
Lydia Viscardi
Real Art Ways presents a solo exhibition by Newtown-based artist Lydia Viscardi, curated by David Borawski.
Join us as Real Art Ways on Friday, October 15, 6pm for an in-gallery artist talk by Lydia Viscardi.
Viscardi utilizes mixed media, oil, and collage to create paintings that depict complicated layered scenes. The resulting textures and saturated color palette encourages the viewer to explore every nook and cranny to discover what hides within their compositions. Found textiles and images offer uncanny moments of legibility in otherwise chaotic scenes.
About the Artist:
Lydia Viscardi is a representational mixed media artist whose exhibition venues include ODETTA Gallery (represented by ODETTA/1stdbs.com), Rick Wester Fine Arts, the Drawing Center, Walter Wickiser Gallery, AHA Fine Art, Sideshow Gallery, Active Space, Brooklyn Fireproof, Concepto Hudson and The Heckscher Museum of Art in New York; Center for Visual Arts, Power Art Center of William Paterson University and Victory Hall Drawing Rooms in New Jersey; Housatonic Museum of Art, The Barnum Museum, Ely Center for Contemporary Art, Artspace, Real Art Ways, Hans Weiss Newspace Gallery of Manchester Community College, and Schelfhaudt Gallery of the University of Bridgeport in Connecticut, and Utah Art Alliance, Salt Lake City, UT. 
Viscardi's work is in many private collections in the United States and in The Copelouzos Family Art Museum in Athens, Greece. In 2020, she had a solo show at Five Points Gallery in Torrington, CT. Upcoming exhibits this Summer, 2021 includes a solo show opening at Real Art Ways in Hartford, CT, the Summer Salon Exhibition at AHA Fine Art, Brooklyn and a summer group show at Rick Wester Fine Art, NYC. A solo show is planned at Rick Wester Fine Art in early 2022.
Welcoming You Back Safely:
As you return to our physical space, your health and safety is our top priority. To learn about all the steps we have taken to prepare and our new procedures visit our Welcoming You Back page.
Photo Credit: John Groo