Event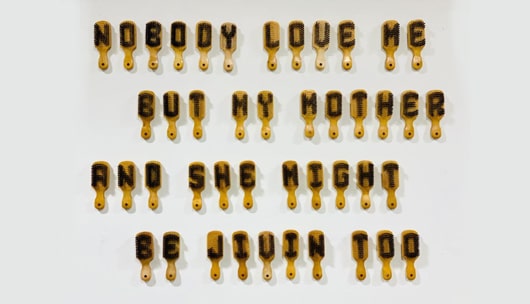 ARTS
The Things That
Haunt Me Still
Felandus Thames
The Things That Haunt Me Still is a solo exhibition by interdisciplinary artist Felandus Thames, curated by David Borawski.
Utilizing found objects and non-traditional materials like hair beads and barrettes, Thames' work explores the viewer's relationship with gender and race. Often asking more questions than offering answers, Thames' playful use of materials and text utilizes humor as an entry point to exploring social and cultural issues.
From the artist's statement:
"Because I desire to make objects that have a life beyond that of my initial intent, the work-often probing and unsettling-poses questions rather than answers them. It shifts the beholder's role from voyeur to participant, and complicates my personal relationship to the work."
About the Artist
Felandus Thames is a conceptual artist living and practicing in the greater New York area.  Born in Mississippi, Thames attended the graduate program in Painting and Printmaking at Yale University where he received his MFA in 2010. He has been included in exhibitions at the Kravets Wehby Gallery, Galerie Myrtis, Tilton Gallery, Heather James Gallery, Charles H. Wright Museum, USF Contemporary Art Museum, International Center for Printmaking New York, African American Museum of Philadelphia, Mississippi Museum of Art, Yale University, Wesleyan University, Columbia University, Art Hamptons, Art LA, The Texas Contemporary, and Miami Basel.
Image: Existential Crisis, Variable dimensions, Hairbrushes, 2020
Welcoming You Back Safely:
As you return to our physical space, your health and safety is our top priority. Learn about all the steps we have taken to prepare and our new procedures HERE