Event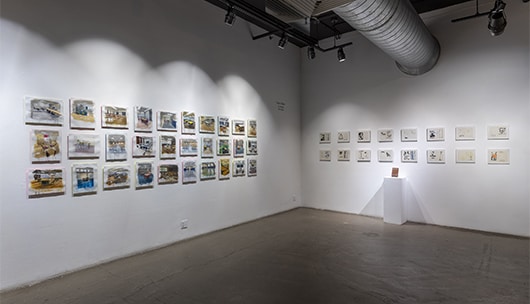 ARTS
Teeter/Totter
Ken Morgan and Peter Waite
Real Art Ways presents a two-person show of work by artists Peter Waite and Ken Morgan.
After four decades of friendship, Waite and Morgan are exhibiting together for the first time. Morgan shares a poetry series completed during quarantine, as well as abstract works from 2020–2021. Waite presents his School Studies series produced from 2018–2021. Through the works on view, both artists express a desire to return to a childlike sense of freedom and play, while grappling with themes of time, memory, and loss. Teeter/Totter was curated by Maria Porada, and first organized as a one-night event at the Arts Industry Gallery in September 2021. Real Art Ways is pleased to be giving the exhibition a longer run.
About the Artists:
Ken Morgan has shown his work in gallery shows, exhibitions, and permanent collections across the country thanks to his efforts to continually create and share. Morgan is most proud of his past longstanding affiliation with the OK Harris Gallery, as well of his current representation by Exhibitions 2d in Marfa, Texas. He is honored to be included in the Connecticut Collection as well as being supported in the past by the National Endowment for the Arts, The Berkshire Taconic Foundation, The Adolph and Esther Gottlieb Foundation, The Pollock-Krasner Foundation, and The Connecticut Commission for the Arts.
Peter Waite was born in North Adams, MA and currently works and resides in Connecticut. He received a BFA from the Hartford Art School, University of Hartford, in West Hartford, CT, and an MFA from the School of the Art Institute of Chicago. He has received many awards including from the National Endowment for the Arts, the Gottlieb Foundation, a Guggenheim Fellowship, and a Pollock-Krasner Fellowship. Waite's works have been featured in the New York Times, Art New England, BOMB, Harper's, and Time Out New York. Waite's paintings are in many public collections including the Metropolitan Museum of Art, the Wadsworth Atheneum Museum of Art, the Williams College Museum of Art, and the New Britain Museum of American Art. Some of his commission work includes projects for the University of Connecticut; the NASA Art Program in Washington, DC; Pacific Enterprises in Los Angeles; the Waterbury Criminal Court in Waterbury, CT.
Welcoming You Back Safely:
As you return to our physical space, your health and safety is our top priority. To learn about all the steps we have taken to prepare and our new procedures visit our Welcoming You Back page.
Photo Credit: John Groo