Event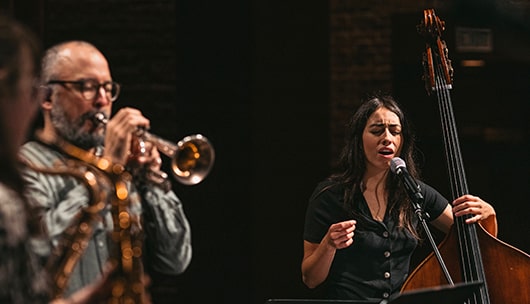 EVENTS
Sweet Tooth: A Suite for Indigenous Resistance
Mali Obomsawin Sextet
Mali Obomsawin – bass, voice
Savannah Harris – drums
Allison Burik, Noah Campbell – reeds
Miriam Elhajli – voice, guitar
Taylor Ho Bynum – cornet
Mali Obomsawin's new work Sweet Tooth is a suite for Indigenous Resistance, weaving together original compositions and arrangements with archival pieces from her community at Wabanaki First Nation. Known for her work as a bassist and singer, the project is Obomsawin's debut as a composer-bandleader. Sweet Tooth highlights exciting intersections in Obomsawin's own roots: incorporating a deep knowledge of rock, jazz, and folk traditions, it juxtaposes Wabanaki stories and songs passed down in her own family with original pieces addressing contemporary Indigenous life, blood politics, colonization, continuity, love and rage. Mali Obomsawin Sextet features Savannah Harris on drums, Allison Burik and Noah Campbell on reeds, Miriam Elhajli on voice and guitar, and Taylor Ho Bynum on cornet. Stay tuned for the record in 2022!
To explore Mali's career and music, visit her website: https://www.maliobomsawin.com
Mali Obomsawin is a bassist, singer, composer and songwriter from Odanak W8banaki First Nation. With an eclectic background in jazz & creative music, American roots & folk, and indie rock, Obomsawin carries several music traditions. A Smithsonian Folkways Recordings artist, Mali has toured internationally, receiving acclaim from NPR and RollingStone and several Boston Music Awards nominations with her band Lula Wiles. She frequents the folk & roots circuit as both frontwoman and sidewoman, appearing at Newport and Philly Folk festivals, and performs as a bassist & singer in the jazz and creative music scene with the likes of Bill Cole, Taylor Ho Bynum, Peter Apfelbaum and Delbert Anderson. In 2020 she joined Welcome to Indian Country, an Indigenous Performance Production featuring six leading Indigenous artists in Jazz and roots music. In fall 2021 she launched her first project as a bandleader with her suite for sextet, Sweet Tooth, exploring concepts of Indigenous identity, colonization and resistance.
Obomsawin's diverse background, sharp lyrical wit, and grounded sensibilities reflect extensive experience across several idioms. Known for her sardonic songwriting, Mali's songs puncture the dream-haze of the capitalist apocalypse with a delicate balance of rock, improvisation and satire.
Beyond the stage Mali is a freelance journalist, published recently in The Boston Globe, National Performance Network, and Smithsonian Folklife Magazine. She is an advocate for Indigenous Sovereignty and collective liberation and works with the organizations Racial Equity and Justice and Sunlight Media Collective. Mali founded Bomazeen Land Trust in 2020, a Wabanaki-led nonprofit for land rematriation and food sovereignty, where she is now Executive Director.