Event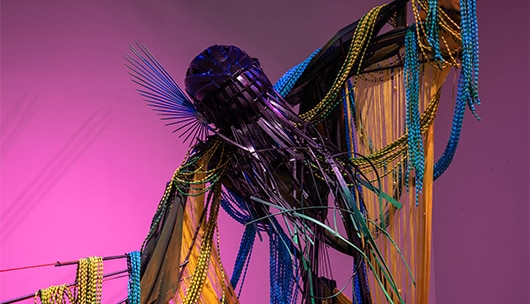 ARTS
Supernature
Benjamin Spalding
Real Art Ways presents a solo exhibition by artist Benjamin Spalding. Curated by David Borawski.
'Supernature is a sculptural tableau inspired by the 1977 disco hit by the same name, produced by Cerrone with lyrics by Lene Lovich. Set to a sweaty disco tempo, this song takes a darker turn, narrating humanity's careless harm to the environment and the monsters that rise up to seek revenge. Although seemingly sinister, the song ends with a hopeful call for humans to renegotiate their relationship to, and commune with the environment. Combining large scale figurative dancers, VHS sculptural works and speculative records, Supernature parallels queer nightlife with questions of biodiversity and pageantry.
Enamored by the mating rituals of birds of paradise, my research led me to ask "what other locations provide extreme moments of aesthetic and energetic outpouring?" Personal interests provided the answer: the nightclub, specifically the history of American nightlife and disco. From 1970-1979 (when the public decried disco as "dead"), disco culture and the nightclub provided crucial spaces for social engagement and finding community through dance. Specifically, this space was embraced by a spectrum of queer, black, and brown dancers and DJs. It is in these special spaces, where incredible expressions of energy and beauty were expressed. Supernature is an homage to the individuals, music and spaces of this era and a call for community with our immediate environment. Amidst all of the duress of the immediate moment, let us pause and learn to dance with nature.' – Benjamin Spalding
About the Artist:
Benjamin Spalding is an interdisciplinary artist based in Portland, Maine. Taking inspiration from his Puerto Rican grandfather's profession as a big band leader, Spalding is preoccupied with movement and the pageantry of the body, weaving together elements of club culture, sports, and nature with family history and questions of migration. While receiving a degree in media studies from New York University, Spalding developed a love for figuration, photography and visual narrative while working as a stylist assistant at publications such as Interview Magazine, and Men's Vogue. After New York, Spalding relocated to Berlin, Germany for 8 years to define his studio practice. It is in Berlin where he began to find a love for club culture and music as a potent mechanism for connection and exploring memory. Upon resettling in Maine, his practice began to shift into working with family photographs, found images, sporting equipment and local ecology. Spalding has also worked as part of the creative force behind Visceral, a queer techno part in Boston. He received his MFA from Maine College of Art and Design (2017) and currently teaches in the Sculpture and Foundations departments.