Event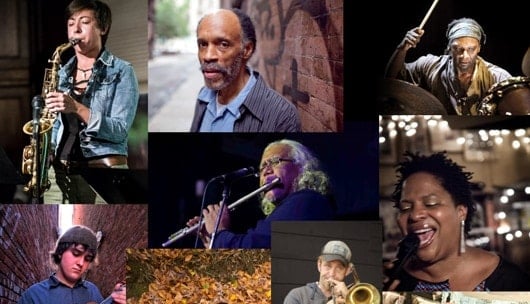 Join us for the fourth installment of Spectacle at Real Art Ways. Since 2014, we have gathered an intergenerational group – mostly different each time – of improvisors in the spring.
Expect a mix of groupings small and large and, likely, a small orchestra rounding out the afternoon.
"Contemporary creative music often seeks to balance the energy of spontaneous real-time exploratory playing with the design potential of structure and form. Morris and Haynes have brought together a pool of talented musicians and the without-a-net framework and unexpected combinations are likely to inspire exciting playing."
– John Adamian, CTNow
Read the complete article here.
Participating Musicians:
William Parker /contrabass violin and more
Hamid Drake / drums and percussion
Mixashawn Rozie / saxophones, flutes
Daniel Carter / saxophones, trumpet
Fay Victor / voice
Jin Hi Kim / komungo
Jerome Deupree /drums and percussion
Sarah Hughes / alto saxophone
Rex Bennett / trombone
Gabe Terracciano / violin
Jacob Means / mandolin and mandocello
Rob Oxoby / contrabass violin
Stephen Haynes / cornets, flugelhorn, alto horn
Joe Morris / guitar, contrabass violin
Curated by Joe Morris and Stephen Haynes