Event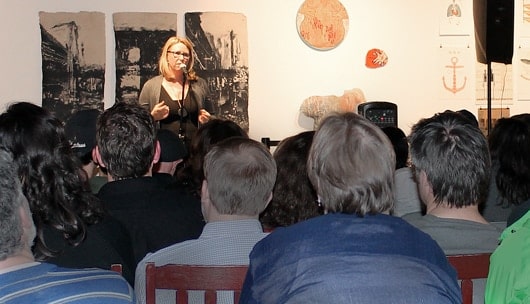 Speak Up is a Hartford-based storytelling organization that promotes the art of personal storytelling to a wide audience and supports a community of storytellers in Connecticut. Speak Up brings professional and amateur storytellers to the stage to share true stories from their lives.
Speak Up events feature storytellers who tell true stories on a predetermined theme. The events showcase a blend of seasoned storytellers and first-timers and always promise to be surprising and entertaining.
Storytellers at this event are:
Ted Olds, patent attorney and 16 time Moth StorySLAM champion with wins in EIGHT different cities throughout the United States.
Kat Koppett, Co-Director of The Mopco Improv Theatre and the Founder of Koppett, a consultancy specializing in the use of applied improvisation to grow individual and group performance. She is the author of Training to Imagine: Practical Improvisational Theatre Techniques to Enhance Communication, Creativity, Leadership and Learning and the co-host of the podcast "Dare to be Human"
Esam Boraey, a human rights activist working for freedom and democracy in the Middle East. This passion led him to play a key role in the Egyptian revolution of 2011, which helped overthrow dictator Hosni Mubarak. Esam left the country after being sentenced to prison in Egypt's criminal court for his work for human rights and democratization in the Middle East.
John DeMeo, mathematics educator currently teaching at Quinnipiac University and in his 47th year of teaching.
Corey Jeffries, who lives in Warwick, NY but grew up in rural Tennessee. His hobbies include playing guitar, writing parody songs, and telling stories to his friends and co workers.
Matthew Dicks, internationally bestselling novelist, 39-time Moth StorySLAM and 6-time GrandSLAM champion, wedding DJ, minister, and elementary school teacher for 20 years.
The show will be hosted by Elysha Dicks.
Speak Up founders and producers Matthew and Elysha Dicks work closely with storytellers to help them craft their narratives for the stage. They also teach workshops for storytellers at all levels.
The theme of the evening is Courage.