Event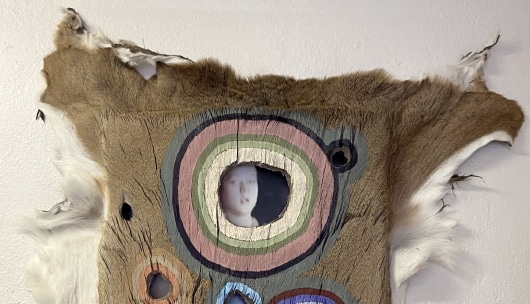 ARTS
Situational Awareness
Jacob Cullers
Real Art Ways presents a solo exhibition of new work by 2020 Real Art Award recipient Jacob Cullers. 
Cullers combines found images printed on vinyl with canvas, animal pelts, and other materials to create layered paintings. Images are chosen from moments before, during, or after an act of violence, and combined with circular abstractions sourcing colors from the original image. Images include figures like Kyle Rittenhouse, Dylann Roof, Timothy McVeigh, and other perpetrators of high profile violence. His experience as an Air Force veteran informs his choices of events, images, and materials.
The title of the exhibition, Situational Awareness, comes from a military practice of the same name. Cullers says, "…there is a hyper sense of awareness when you're in a hostile situation over a period of time. You bring this back and carry it with you after going to 'war'." 
About The Artist:
Jacob Cullers currently lives and works in New London, CT. His educational background includes a Bachelors of Fine Art with a Minor in Art History from the University of Hartford '15 and a Masters of Letters in Painting from the Glasgow School of Art '16 in Scotland, UK.  He served in the United States Air Force and is an Iraq war veteran.
About the Real Art Awards:
The Real Art Awards is an annual opportunity for emerging artists living in New England, New Jersey, or New York. The open call, offered with no entry fees to artists, attracts hundreds of applicants each year, of which 6 artists are chosen. Selected artists receive a solo exhibition, with a commissioned essay, professional documentation, and a cash prize of $2,500. The 2020 Real Art Awards was juried by artist and educator Mary Mattingly, Director of the Laundromat Project Kemi Ilesanmi, and Real Art Ways Executive Director Will K. Wilkins.
The 2020 Real Art Awards is supported in part by:
An award from the National Endowment for the Arts and an Excellence in the Arts award from the Edward C. and Ann T. Roberts Foundation. Visual arts at Real Art Ways is supported by the Andy Warhol Foundation for Contemporary Art.
Featured image: 8.25.20 (detail) Oil, animal pelt, and inkjet print on vinyl, 2021 64 x 47 x 2 inches
Welcoming You Back Safely:
As you return to our physical space, your health and safety is our top priority. To learn about all the steps we have taken to prepare and our new procedures visit our Welcoming You Back page.