Event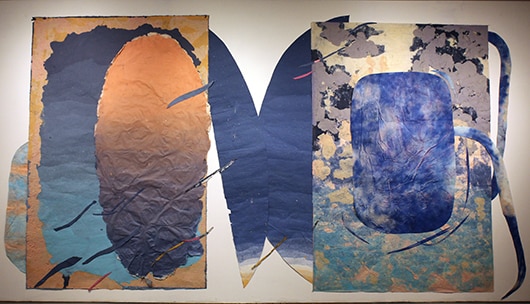 ARTS
Artist Talk: Hong Hong & Megan Craig
Shining Some Glory: Hong Hong's Dark Segment
Join artists Hong Hong and Megan Craig for a conversation surrounding the exhibition Dark Segment and Craig's essay commissioned by Real Art Ways. The reception will open at 2:30 PM, with conversation beginning at 3:00 PM. Admission is free, with light refreshments available.
While at Real Art Ways, Visual Arts Coordinator Neil Daigle Orians has worked with both artists in producing solo exhibitions. Commenting on their work, he said, "Hong Hong met Megan Craig at the opening for her 2018 Real Art Ways exhibit Shields. Their connection serves as a beautiful metaphor for how Real Art Ways supports and connects artists, creating community along the way. Craig's essay is a fantastic exploration in the concepts and impacts Hong's massive paperworks create. I am excited to hear their conversation and join in."
Click here to learn more about Dark Segment.
Visit Real Art Ways to pick up a copy of Craig's essay, Shining Some Glory: Hong Hong's Dark Segment.
Dark Segment was supported by the Edward C. & Ann T. Roberts Foundation's Creation of New Works Initiative.
Featured image: Composition for the Blue Shoulders of Evening; 2015 to present; Kozo, sun, dust, hair, pollen, water, repurposed paper, fiber-reactive dyes; Dimensions variable.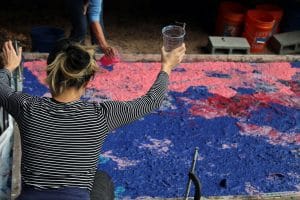 Artist Hong Hong presented a large scale paper pour workshop with Real Art Ways members on September 22, 2018. Photo by Neil Daigle Orians