Event
The Series takes place in-person on the second Wednesday of the month from September 2022 through May 2023. Each night begins with a poetry reading featuring regionally- or nationally-known poets, followed by an open mic – one poem, one page.
The authors' book will be available to buy for book signing and conversation.  Beer, wine, soft drinks, and snacks will be available for purchase.
Free of charge. Ample parking available at Real Art Ways. Audience mask wearing is encouraged, but not required.
Terry Blackhawk
Twice named Michigan's Creative Writing Teacher of the year, Terry Blachawk is founding director (1995-2015) of Detroit's InsideOut Literary Arts Project and recipient of the John Ciardi Prise (for Escape Artist), the Pablo Neruda Prize, a Kresge Arts in Detroit literary fellowship and grants from the NEH and Michigan Council for the Arts. Kirkus Reviews named her fifth full-length collection One Less River a Top 2019 Indie Poetry title. In 2016 she moved from Michigan to Connecticut to live near her son Yale historian Ned Blackhawk and grandchildren.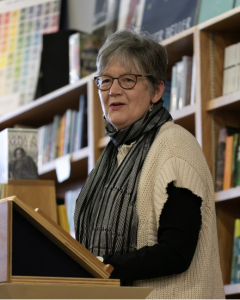 About Riverwood Poetry Series

The Riverwood Poetry Series, Inc. is a non-profit arts organization committed to the promotion and appreciation of poetry in Connecticut. RPS, Inc. is invested in providing entertaining and thought-provoking programming, while responding to the needs of our neighbors through community outreach and collaboration. From their Facebook page: "The Riverwood Poetry Series has innovated many programs since our inception, all of them free to the public. We provide entertaining and thought-provoking poetry in a relaxed atmosphere."