Event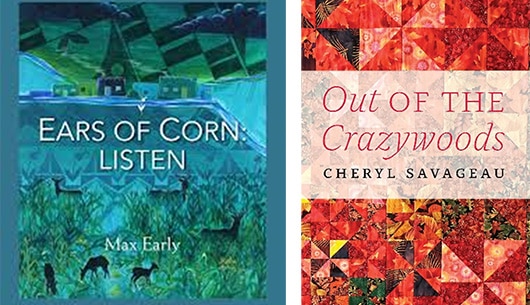 The Riverwood Poetry Series continues with
Max Early and Cheryl Savageau.
Max Early is a recent graduate of the Institute of American Indian Arts' MFA Creative Writing program. He has received fellowships and residencies from Taos Summer Writers' Conference, School for Advanced Research's Indigenous Writer, Orion in the Wilderness with the Omega Institute, and Writing By Writers. Early is the author of Ears of Corn: Listen (3: A Taos Press).
He is also an established potter from the Pueblo of Laguna. His clans are Tsina Hanu (Turkey People) and Kwaya Waashch'ee (child of the Bear Clan). Early lives in the village of Paguate, NM.
Cheryl Savageau (Abenaki) poet, a memoirist is the author of Out of the Crazywoods, a memoir that navigates her experience of living with bipolar/manic depressive illness; and three collections of poetry – Mother/Land, an "unhistory" of the Northeast; Dirt Road Home, which was a finalist for the Paterson Poetry Prize and nominated for a Pulitzer Prize; and Home Country.  She has won Fellowships in Poetry from the National Endowment for the Arts, the Massachusetts Artists Fellowship Program, and is a three-time fellow at MacDowell.  Her children's book, Muskrat Will Be Swimming, was a Smithsonian Notable Book and won the Skipping Stones Award for children's environmental literature and the Wordcraft Circle's Best Children's Book of the Year award.  Savageau mentored Native writers through Wordcraft Circle of Native Poets and Storytellers, and was awarded Mentor of the Year in 1998.
She has taught workshops through Gedakina, and is former editor of Dawnland Voices 2.0.  Her work has appeared most recently in Yellow Medicine Review, The Cape Cod Review, and Hinchas de Poésia, and is widely anthologized.  She teaches Indigenous literatures and creative writing at the Bread Loaf School of English at Middlebury College.
An open mic will start after the readings by Max Early and Cheryl Savageau. To sign up, please send an email to riverwoodpoetry@yahoo.com
Join us online on the Second Tuesday of the month through May 2021. Each night has an open mic and a poetry reading featuring regionally – or nationally – known poets.