Event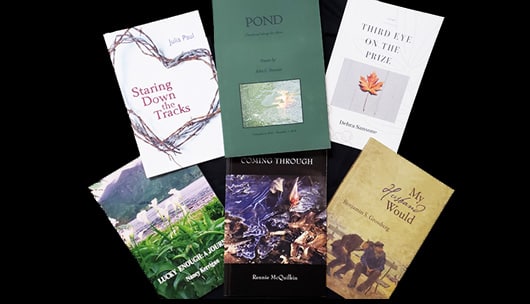 The Riverwood Poetry Series continues with
6 POETS:

 

Book Launch Bonanza!
Six Connecticut poets who published new books during the time of the pandemic and have not yet launched their books into poetry audiences will read selections and introduce their work:
Ben Grossberg—Director of Creative Writing at the University of Hartford, reading from My Husband Would, which, set at the crossroads of middle age, investigates love and family—both the families we are born into and those we create for ourselves.
Debra Sansone—Teacher and Healer, reading from Third Eye on the Prize, about consciousness, creation, and mindfulness—poems which mine the rich lode to be found in the incongruities between appearance and reality.
John Stanizzi—Literature instructor at Manchester Community College, reading from P.O.N.D, a daily journey in verse and photographs to a pond near his home where he reveals the secrets of nature hidden in plain view.
Julia Paul—President of the Riverwood Poetry Series and elder law attorney, reading from Staring Down the Tracks, which gives voice to those affected by addiction, a diverse demographic often harshly judged and silenced by shame.
Nancy Kerrigan—psychiatric nurse practitioner and therapist, reading from Lucky Enough: A Journey, which traces a life shaped by an Irish Catholic youth in Chicago and on through the trials and joys of her adulthood.
Rennie McQuilkin—Connecticut Poet Laureate from 2015-2018 and winner of the Connecticut Center for the Book's Lifetime Achievement Award, reading from Coming Through, the fourth in a series of books written in the face of mortal illness, looking for ways to prevail despite the multiple crises we face.
There is no open mic this month.
Join us online on the Second Tuesday of the month through May 2021. Each night has an open mic and a poetry reading featuring regionally – or nationally – known poets.