Event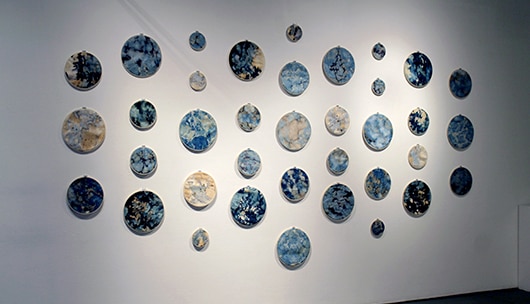 Real Art Ways presents Reclamation, an installation by Connecticut-based artist Sydney Morris and part of the Real Wall series.
Of the use of photographic chemistry in this recent body of cyanotype works, Morris notes: "these pieces are unique in the fact that they are ever-changing. Much like ourselves, their colors may change, become brighter, or slowly fade over time. They age, grow, and adapt to the environment around them. While some pieces may have been made from the same cloth, no two are entirely uniform. They are each as powerful on their own as they are together." The installation opens Thursday, January 20, and will be on view for one month.
About the Artist:
Sydney Morris is an alternative process photographer, website developer/designer, and digital media marketing manager. In 2012, she attended the Fashion Institute of Technology in New York City with a concentration in Photography; continuing on to receive her BFA from the Hartford Art School at the University of Hartford in 2015. Morris has exhibited at Five Points Gallery in Torrington, CT, the Niche Gallery at Middlesex Community College, and Rowayton Arts Center, among other venues.
Welcoming You Back Safely:
As you return to our physical space, your health and safety is our top priority. To learn about all the steps we have taken to prepare and our new procedures visit our Welcoming You Back page.