Event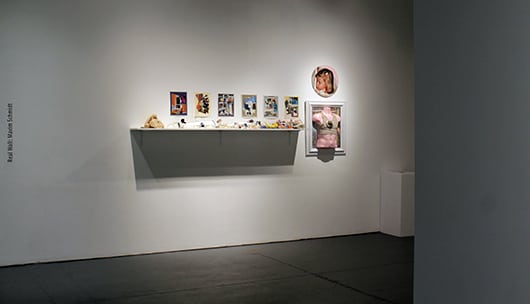 Real Art Ways presents to phone a friend, an installation by Connecticut-based artist Maxim Schmidt and part of the Real Wall series.
Artist Statement:
"to phone a friend is a self-portrait of loneliness and not-belonging. It is a collection of memories I hold dear or hardly remember, trinkets and treasures alongside testaments to unwavering sadness in the form of crumpled unlove letters. The piece embodies the feeling that I am explosively everything, yet also culminating into nothing. I am so trapped inside of myself that the longest reach to form some sort of connection outside of myself is doomed to fail. I am a moment that never comes, as is my relationship with the world and those around me. I feel so marred by my subjectivity and obsession with small, strange objects that I forget (or neglect to try) to help myself. I ignore the fact that maybe someone, somewhere, wants to properly know me, so as to escape the inevitable pain that accompanies a close connection with any other person. I am a museum without visitors, stuffed to the brim with otherwise-nonsense objects and ideas that no one will see. The idea of calling a friend is a hypothetical I do not have."
About the Artist:
Maxim Tobias Schmidt (he/they) is a multidisciplinary artist working out of Meriden, CT. In May 2019, he graduated with his BA in Art Therapy from Albertus Magnus College. Schmidt currently serves as the gallery coordinator and curatorial assistant for the Ely Center of Contemporary Art in New Haven, and has had a longstanding relationship with ECOCA. He also works as a Program Director for the Institute Library's latest initiative, the Social Justice Readers Program. As a young trans masculine artist, much of Schmidt's work is informed by his growing up in queerness, in both overt and less obvious ways. His work also reflects his love of collecting and finding objects. Schmidt yearns to attach deeper meaning to what is otherwise considered uninteresting or disposed. His work has been displayed at the Ely Center and Artspace New Haven, and has been published in Yale's The Perch creative arts journal.
Welcoming You Back Safely:
As you return to our physical space, your health and safety is our top priority. To learn about all the steps we have taken to prepare and our new procedures visit our Welcoming You Back page.