Event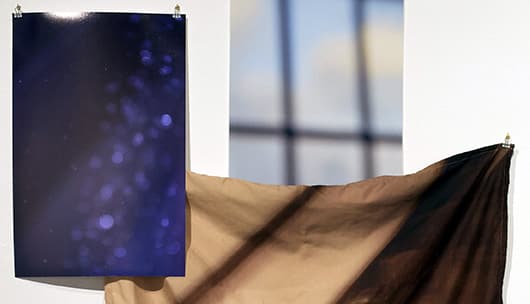 Utilizing the camera as a mark making tool, Keri Halloran creates images that exploit the painterly possibilities of photography. In this body of work, I bet burning alive would be beautiful., Halloran captures ambiguous images that exist in a liminal space between reality and fiction, literally blurring the lines between what is and is not recognizable. Combining this with a sensitivity to materials and installation methods, the result allows the viewer to engage in her photographs as objects, images, and an expansive collage on the wall.
From her artist statement:
"As each perspective gets layered onto one's self, it has an affect on one's perceived reality. The viewer receives from the disparate images emotions that are communicating with each other in a positive and negative way. The vagueness and ambiguity within the visuals lends itself to the vagueness that the self can embrace as well."
About the Artist
Keri Halloran is an artist from Hartford, Connecticut who focuses on visual sensations within images. She received a Bachelors of Fine Arts in photography at Hartford Art School at the University of Hartford. Keri is actively showing throughout Connecticut while working full time in commercial photography.
http://www.kerihalloran.com
Instagram: @keri.halloran
Real Wall is a series of wall mounted exhibitions taking place in between formal gallery spaces. Artists are invited to engage with the space in experimental ways meaningful to their practice in short-run exhibitions.