Event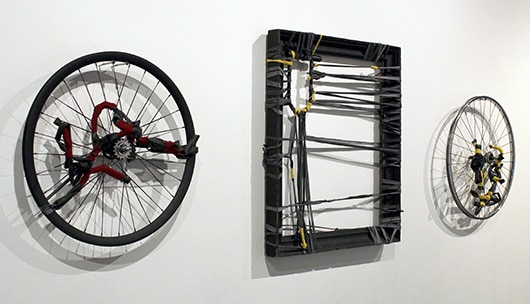 ARTS
Real Wall: Angelica Hilliman Cotto
Combining found objects and materials with yarn, Angelica Hilliman Cotto creates sculptures that subvert the familiar to create intriguing compositions. Open spaces, spokes and rubber straps create intricate shadows on the wall, acting as an additional layer in her work by creating a greater sense of depth.
Artist Statement
"The Forever Bound project addresses addiction, unjust laws, mental health, our darker attachments, bad habits, betrayal, toxic relationships, and all of the things that keep us chained when we hunger for true freedom. It is the notion of being stagnant, caged, limited, restricted, confined. How do we become liberated? And what does that look like? Riding bicycles allows for a taste of true liberation, physically pushing to move past something. Forever Bound uses deconstructed bicycles to do the exact opposite, where they now behave as cages rendering (the viewer) immobile and oppressed." – Angelica Hilliman Cotto
About the Artist
Angelica Hilliman Cotto was born in Hartford, Connecticut. She grew up in the Blue Hills neighborhood surrounded by a family of activists, artists, politicians, and community organizers. At the age of 13, she enrolled in a progressive boarding school in Williamstown, Massachusetts where she learned to stretch canvases and experimented with oil paint. Her artistic style was influenced by the travel back and forth between the vibrant urban setting of Hartford and the rural environment of the Berkshires. Her painting became very free and gestural, with the act of painting becoming more of a dance.
After high school, she pursued a painting degree at Syracuse University and later transferred to the sculpture department at Hartford Art School. There she found joy in the freedom to use anything and everything for materials. She produced multiple sound pieces, as well as work that incorporated ritual and nostalgic items.
Cotto has installed work at Spark Contemporary Art Space, Artspace Hartford, Pumphouse Gallery and The Mill. Her paintings were recently displayed at several businesses in the Parkville area of Hartford, including Firebox Restaurant, Story and Soil coffee shop, and Little River Restoratives.
Cotto is also a member of Girl on Girl, a collective of female-identifying artists with chapters in Syracuse, New York and Los Angeles that provides a supportive community for collaboration and growth across all mediums. Angelica lives in Hartford's North End, works as a teacher through the YWCA and ride bikes as her main form of transportation.
About Real Wall
Real Wall is a series of wall-mounted exhibitions taking place in between formal gallery spaces. Artists are invited to engage with the space in experimental ways meaningful to their practices in short-run exhibitions.