Event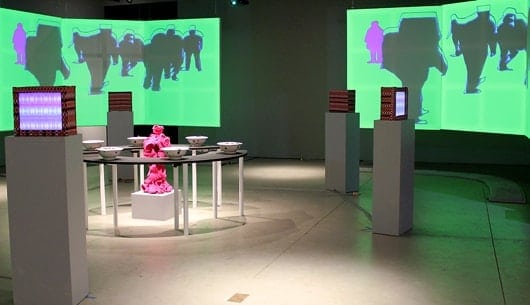 Premiere of a Collaborative Art Exhibition Commissioned and Produced by Real Art Ways. Reaction Bubble is an installation that includes interactive custom electronics, video, ceramic sculpture, and choreography.

The presentation of Reaction Bubble is the culmination of a four-year collaboration. The artists who worked together to create Reaction Bubble are the team of LoVid (Tali Hinkis and Kyle Lapidus), choreographer Deborah Goffe, and ceramicist Matthew Towers. Real Art Ways introduced the artists to each other in 2012. The project received major support from The Robert Rauschenberg Foundation. Important funders include the Edward C. and Ann T. Roberts Foundation, the J. Walton Bissell Foundation and the National Endowment for the Arts.
Reaction Bubble is inspired by the anthropological field of Proxemics, the study of the impact and significance of physical distances between people as they interact. These distances are described as conceptual bubbles. Each "bubble" is a different size and is appropriate for a specific type of interpersonal interaction: Public Space, Social Space, Personal Space, and Intimate Space. The exhibition employs ceramic sculptures, video, interactive technology and dance to explore the meaning of the interactions influenced by these physical distances.
Throughout the development and process of creating Reaction Bubble, the artists drew inspiration from each other's artistic fields. One area of interest is the intersection between handmade fine art and new technology. They examined relationships between human bodies and mediated spaces, from urban digital signage to personal smart devices. Reaction Bubble will extend from the artists to audience involvement, forming an immersive installation and performance experience.
The exhibit will be on view through June 19, 2017.
Schedule of Dance Performances:
Friday, June 16, 7 PM
Saturday, June 17, 3 & 7 PM
About the Artists
LoVid is the artist duo of Tali Hinkis and Kyle Lapidus. Their interdisciplinary works explore the often invisible or intangible aspects of contemporary society, such as communication systems and biological signals. They are particularly interested in the ways technology seeps into the evolution of human culture. Their practice includes performances, participatory public art, handmade technologies, textiles, prints, App-art, experimental video, and immersive installations. They focus on the juxtaposition of media with physical objects, geographic spaces, and the human touch. LoVid's performances have been presented at Museum of the Moving Image, Graham Foundation, Eyebeam, MoMA, FACT, PS1, Real Art Ways and The Kitchen, among many others. LoVid's videos have been screened in galleries, festivals, and events worldwide including Modern Art Oxford, Art in General, Gene Siskel Theater, International Film Festival Rotterdam, and NY Underground Film Festival.
Deborah Goffe is a performer, dance maker, dance educator, performance curator and intermittent video artist. She is founder of Scapegoat Garden, a Hartford-based collaborative dance theater company, which has served as a primary vehicle and creative community through which Deborah has explored the intersection of dance with other media. A graduate of the University of the Arts (BFA, Modern Dance) and California Institute of the Arts (MFA, Dance Performance and Choreography), Deborah earned a Professional Certificate from Wesleyan University's Institute for Curatorial Practice in Performance in 2013 where she explored curatorial practice as a way to nurture the health and vitality of local dance eco-systems.
Matthew Towers is an Associate Professor of Ceramics at the Hartford Art School, University of Hartford in Connecticut. His work has been shown nationally and internationally in solo and group exhibitions such as White on White, NCECA 2005 Clay National Exhibition, Greenwich House Pottery, Pewabic Pottery, The Elmhurst Art Museum, The Slater Memorial Museum, The Archie Bray Foundation, the Wexler Gallery and the Philadelphia Clay Studio. Towers received his B.F.A. in Theater from New York University and his M.F.A. in Ceramics from The New York State College of Ceramics at Alfred University.
Tyler Henry – Technical Director
Collaboration and Support
Reaction Bubble received major support from The Robert Rauschenberg Foundation. Important funders include the Edward C. and Anne T. Roberts Foundation, the J. Walton Bissell Foundation and the National Endowment for the Arts.