Event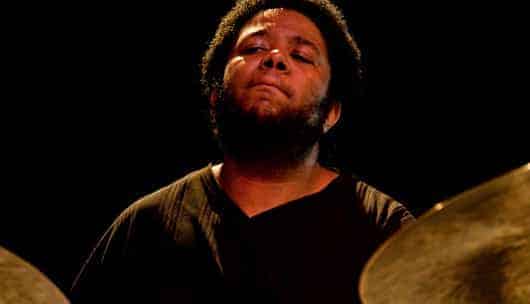 ARTS
RAW JAZZ: Tyshawn Sorey Septet
Real Art Ways presents RAW JAZZ – A series of four free concerts in June, July and September.
Major support for RAW JAZZ comes from the Evelyn W. Preston Memorial Trust Fund, Bank of America, N.A., Trustee.
"He is the antithesis of the showy, extroverted drummer, as for Sorey the stress is always on the beauty of the collective music made by his groups rather than the chops of the individual players." – Troy Dostert, The Free Jazz Collective
Tyshawn Sorey is a composer, performer, educator, and scholar working across an extensive range of musical idioms. A 2015 Doris Duke Impact Award recipient, Sorey performs percussion, trombone and piano nationally and internationally with his own ensembles, and artists including Muhal Richard Abrams, Steve Coleman, John Zorn, Roscoe Mitchell, Misha Mengelberg, Vijay Iyer, Wadada Leo Smith, Anthony Braxton, Steve Lehman, Tim Berne, and Myra Melford.
The International Contemporary Ensemble, Spektral Quartet, and TAK Ensemble have performed his compositions, which integrate African diasporic, Western classical, and avant-garde musical forms. In 2012, he was selected as an Other Minds Composer.
As a leader, Sorey has released five critically acclaimed recordings – most recently The Inner Spectrum of Variables (Pi, 2016), which features both classical/contemporary composition and conducted improvisation.
He has taught lectures and courses on composition and improvisation at the Banff Centre, International Realtime Music Symposium (Norway), Hochschule für Musik Köln, Musikhochschule Nürnberg, Rhythmic Conservatory (Denmark), Birmingham Conservatory of Music, Conservatorium van Amsterdam, Cité de la Musique (Paris), and Vallekilde Højskole (Denmark).
Sorey's works have premiered at the Issue Project Room, Walt Disney Hall, the Bimhuis, Mostly Mozart Festival at Lincoln Center, the Village Vanguard, the Jazz Gallery, and Roulette.
He received a B.M. in Jazz and Performance Studies from William Paterson University and an M.A. in Music Composition from Wesleyan University. Tyshawn will begin his tenure at Wesleyan University as a John Spencer Camp Professor of Music in Fall 2017.
The septet, called Koan II, will play compositions by Sorey that are inspired by concepts derived from Zen Buddhist practices and nearly imperceptible sound worlds. The ensemble will explore low-range instruments with their characteristic slow sonic waves.
Joining Sorey are Ben Gerstein, trombone; Stephen Haynes, trumpet; Todd Neufeld, guitar; and three basses: Mark Helias, Joe Morris and Carl Testa.
"…he tends to move through his music with a flowing sense of ritual and constant alertness. It involves a lot of silence. It also involves a lot of attack, but in very short and concentrated doses, sometimes as short as one great, purposeful smack on a drum head or a quick crescendo of mallets on cymbals that floods the club's entire atmosphere." – Ben Ratliff, New York Times