Event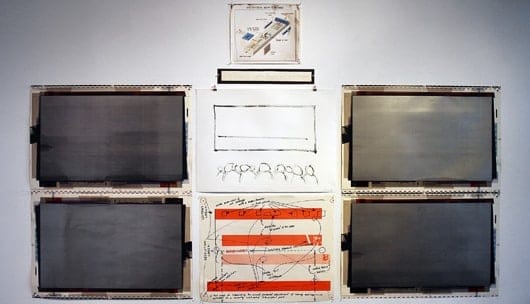 ARTS
Pinned to the Wall: Panel Discussion
Join us for an informative and lively panel discussion, delving into a variety of subjects suggested by the exhibition, Stewart Crone: Pinned to the Wall.
Panelists
Peter Waite: Curator / Moderator
Marty Baron: Art collector
Stewart Crone: Artist
Peter Good: Designer / Artist
Chris Passehl: Designer
Kelly Walters: Assistant Professor of Graphic Design, UConn
Discussion Topics Include
Fine Art vs. Applied Art
Tradition vs. Innovation: can traditional techniques be used in innovative ways?
Where are lines drawn between commercial print and design and fine art?
Who is the client for fine art?
How does print democratize art? Does print devalue art?
About the Panelists
Peter Waite is the curator of the show. Peter is an accomplished painter whose work has been shown nationally and is included in the collections of the Benton Museum, The Wadsworth Antheneum, NASA, and The Metropolitan Museum of Art, to name a few. http://www.peterwaite.com/
Marty Baron is a financial planner and art collector living in West Hartford. He and his wife Nancy participated in Artspace New Haven's "House Salon" tour in September of 2016, where their collection was on display and guests were given a tour by painter Deborah Dancy.
Stewart Crone is the artist of the show, Pinned to the Wall. He has a wealth of knowledge and insight into the topics surrounding his work.
Peter Good is a designer and artist, and co-founder of Cummings-Good. His work is included in the collections of the Cooper-Hewitt National Design Museum, NY; the Library of Congress, Washington, DC; The Museum fur Kunst und Gerwerbe, Hamburg; Neue Sammlung MuseumMunich; and the Museum of Modern Art, Toyama, Japan. https://www.cummings-good.com/
Chris Passehl founded his design firm in 1996. His clients include the YMCA of Greater Hartford, The Lewitt Collection, and Real Art Ways, among many others. Chris has taught at the University of New Haven, Eastern Connecticut State University, and UConn as well as advised student interns from Yale, RISD, and others. http://www.passehldesign.com/
Kelly Walters is an Assistant Professor of Graphic Design at the University of Connecticut. She is a multimedia designer and curator. Her artistic practice investigates the intersection of black cultural identity, representation, and language in mainstream media. She is also founder of Bright Polka Dot (an independent design studio) focusing on print, digital, pattern and textile design. Kelly has worked as a designer for SFMOMA, the RISD Museum, and Blue State Digital.