Event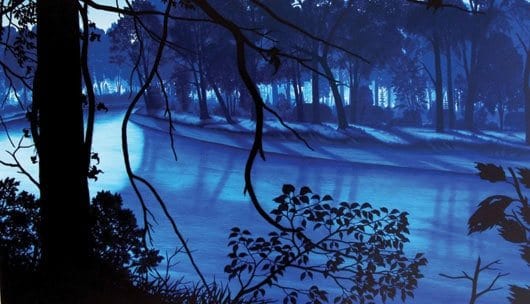 ARTS
Peter Edlund: Names on the Land
ARTIST TALK: Saturday, January 27 | 4 PM
Peter Edlund explores the contradictions in utopian American landscape imagery. Taking aesthetic and visual cues from the work of artists ranging from the Hudson River School to Ansel Adams, Edlund's paintings employ allegorical imagery to investigate contemporary issues. His landscapes reference the mythic images of Manifest Destiny while shedding light on the "actual social and political reality of racism and genocide in our country."[1]
In 2005, Edlund began researching Algonkian languages to understand the meanings of Native American place names in the Northeast, adding the Oneida language indigenous to central New York State in 2013. His research has informed his paintings since. Says Edlund, I am attempting to "address the collective amnesia of American society by using the 'landscape' as my means of expression."[2] Edlund's work raises compelling questions. Why is there generally a lack of cultural understanding of the meanings and significance of native words that are the names of rivers, mountains, lakes and towns?
Through appropriating the aesthetics of historic landscape painting, Edlund's work takes aim directly at colonialism and the forces that created the rifts in understanding and knowledge that we live with today. Edlund uses traditional allegory as a tool to investigate contemporary issues, while simultaneously connecting us with the history we come from.
Picking the most contentious battle states from the 2016 Presidential Election, Edlund investigates contemporary social issues each state faces that are deeply rooted in historical events and practices. He utilizes idyllic landscape painting to create imagery that evokes breathtaking sunsets while embedding deep allegorical meaning. For example,
The Battle of Wisconsin shows a swan and her hatchlings being threatened by a fox, raccoons and an eagle. The imagery "evokes the conflicts of Wisconsin's history from the displacement and relocation of indigenous peoples to the current conservative agenda of social cutbacks, racial inequalities and voter suppression."[3] Edlund crafts his imagery in the Battle States paintings by taking place names from respective states and translating their original Native American meanings into English — Waukesha meaning fox, Waubesa meaning swan, Kanabec meaning snake, and so forth.
Read the article in the Hartford Courant.
Here's a review of the exhibition in Art New England.
About Peter Edlund
Edlund studied at the School of the Museum of Fine Arts in Boston and teaches at the School of Visual Arts in New York. He has shown nationally and internationally, and has received honors incluing MacDowell Colony Residencies, a Gottlieb Foundation grant, and a Pollack-Krasner Foundation Grant. He has exhibited at Jack Shainman Gallery, among many others. Edlund is originally from West Hartford, Connecticut. His work has been exhibited at Real Art Ways on mulitiple occastions, including a solo exhibition in 2000, Majestic America.
[1] Artist Statement, Peter Edlund, http://www.peteredlundart.com/artist.html
[2] Artist Statement, Peter Edlund, http://www.peteredlundart.com/artist.html
[3] The Battle for Wisconsin artist statement card, Peter Edlund, 2017
Featured image: Weatogue (Hut-Land), 36″x46″, oil on canvas, 2007
Thanks to the College of Engineering, Technology, and Architecture at University of Hartford for assistance in creating laser-cut stencils used to produce several works in the exhibition and public art works in various locations around Hartford.