Event
EVENTS
Outdoor Music & Movie Night
This event has sold out.
Real Art Ways will be hosting more outdoor movie nights during the summer and we hope to see you there. To stay in touch, sign up for our weekly Enews letter.
Event Overview:
Music with Erica T. Bryan and Tom Sullivan (members of West End Blend and The New Mosaic)
followed by
I Am Not Your Negro (a profound film, based on the words of James Baldwin)
Our first live event since the shutdown!
Outdoors at the Hill-Stead Museum in Farmington.
Bring a blanket, chairs, and a picnic to the Hill-Stead Museum West Lawn. Order beverages online through The Wise Old Dog using this link or bring your own. Seating is limited according to state guidelines.
We will sell out.
Tickets: $25 /$20 for Real Art Ways Members (You will need your Member ID number.)
Advance tickets only. No ticket sales at the door.
Music: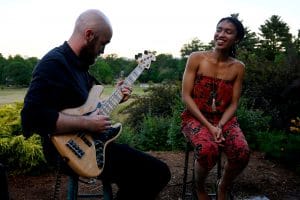 Erica T. Bryan and Tom Sullivan, of West End Blend and The New Mosaic, bring their superb musical skills for an intimate, outdoor experience. They've played Real Art Ways several times. They are outstanding!
Movie: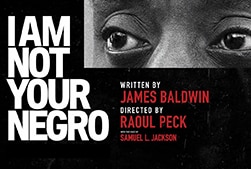 99% on Rotten Tomatoes
NY Times Critic's Pick
Academy Award Nominee for Best Documentary, 2017
"Raoul Peck's documentary is an important introduction to James Baldwin's work and an advanced seminar in racial politics." –A.O. Scott The NYTimes
Synopsis:
In 1979, James Baldwin wrote a letter to his literary agent describing his next project, Remember This House. The book was to be a revolutionary, personal account of the lives and successive assassinations of three of his close friends-Medgar Evers, Malcolm X and Martin Luther King, Jr.
At the time of Baldwin's death in 1987, he left behind only thirty completed pages of his manuscript. Now, in his incendiary documentary, filmmaker Raoul Peck envisions the book James Baldwin never finished. The result is a radical, up-to-the-minute examination of race in America, using Baldwin's original words and a flood of rich archival material. I Am Not Your Negro is a journey into black history that connects the past of the Civil Rights movement to the present of #BlackLivesMatter. It is a film that questions black representation in Hollywood and beyond. And, ultimately, by confronting the deeper connections between the lives and assassination of these three leaders, Baldwin and Peck have produced a work that challenges the very definition of what America stands for.