Event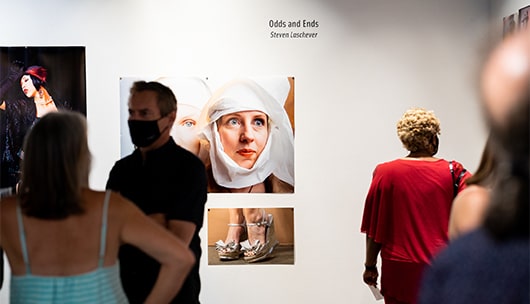 ARTS
Odds and Ends
Steven Laschever
Real Art Ways presents a solo exhibition by photographer Steven Laschever, celebrating over twelve years of capturing images from Real Art Ways' Creative Cocktail Hour.
Laschever began photographing Creative Cocktail Hour in 2009 and through the years has compiled a large body of work from the events. Laschever's solo exhibit, Odds and Ends, captures the energy, camaraderie, creativity and enjoyment of the attendees in a remarkably unique series on display. Included are candid images of attendees, as well as images of the quirky and eccentric Odd Ball parties.
"What an odd thing. When you point a camera at someone, they robotically put there arm around the other person and smile. After years of event photography, I started to loath these 'grip and grin' type photos. They say almost nothing. That led me on a path through the start of digital photography to improve my skills in capturing real and unique moments. Not that easy. As a friend of Real Art Ways, I used the Creative Cocktail Hour parties as my photographic playground to practice. All that practice with lighting, lenses and most importantly, the way I approached and engaged people all come from this playground. I enjoy what I do and will never stop learning and challenging myself to simply make cool images and have a blast doing it." – Steven Laschever
About the Artist:
Steven Laschever creates captivating images that document social events, artists and their work, musicians in performance, personalities at universities, galleries, corporations throughout Connecticut as well as international locations. His work includes publications such as the Hartford Business Journal, Connecticut Magazine and New Haven Biz, as well as corporations and family albums. With a career spanning over 30 years, Steven has emphasized community-building as a lifetime West Hartford resident. He recently had the honor of creating the "Gallery of Pioneers," large-scale, black & white portraits of more than 80 distinguished lawyers and judges affiliated with the UConn School of Law.
Steven holds a Bachelor of Arts in Film Studies from Boston University. He has traveled all over the world photographing architectural interiors, conferences and scenic destinations. He has a passion for all types of photography, including landscapes, aerial views and products, using his technical lighting expertise. But, Steven's greatest joy comes from photographing people, with his gift of making his subjects feel at ease and capturing their true essence.
Photo Credit: Denis Semenyaka