Event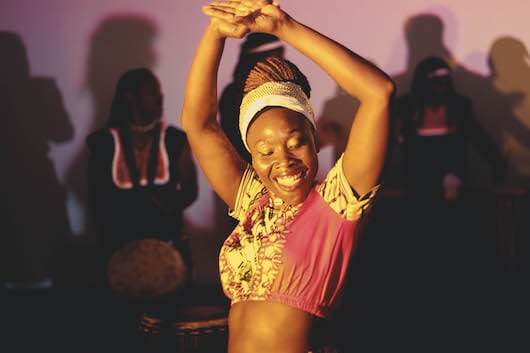 EVENTS
October Creative Cocktail Hour
Come with friends, or come by yourself.
Everyone is welcome, all ages, all backgrounds –
on the third Thursday of every month.
---
– This month Real Art Ways collaborates with The Connecticut Institute for Refugees and Immigrants (CIRI) for a a pop-up exhibition of An American Story, and screenings of Refuge. Join the CIRI movement at this thought-provoking and collaborative event.
– FIVE NEW Exhibitions on view:
– Hong Hong: Dark Segment
– Noé Jimenez: Real Wall
– Maggie Nowinski: Drawn Whole
– Sofia Plater: Cultch
– Belam Soto: Intangible Proximity
– Ed Fast and Conga Bop present: Afro Cuban Jazz and Dance-The Roots of Salsa!
Featuring: Master virtuoso percussionist Anthony Carrillo ("the best bongocero in the universe"- Eddie Palmieri); pianist/arranger Amy Quint Millan; Savana Jones; Yolanda Coggins; Sarah Hanahan; Keenan Asbridge; Brian Simontacchi; Ed Fast; Jorge Fuentes; Matt Dwonszyk; Gianni Gardner.
– Food Truck: Cousins Maine Lobster
With 20 trucks in 13 cities, Cousins Maine Lobster is serving up fresh and authentic Maine seafood throughout the country.
– Bicyclists – Ride to Creative Cocktail Hour and get in for $5. RAW members on bikes get in free.
Community. Connections. Creativity.
Photo credit: M&M Photography