Event
The Prepared Digital Piano
What could a Hardanger fiddle player and a computer programmer possibly have in common? For Dan Trueman, an expert in both areas, it's all just technology. And whether the eventual expression of his ideas requires old instruments or the invention of new ones, he is more concerned that the tools employed offer musicians the most engaging musical experience possible.
Real Art Ways presents the duo of Sō Percussion member Adam Sliwinski and Trueman in an exploration of some of humanity's oldest and newest musical ideas.
Trueman, who is a programmer as well as a musician, has invented a fascinating new instrument, called the "bitKlavier," which reinvigorates the piano for the digital age. His instrument sounds, looks, and is played like a piano, but runs through a laptop so that it can bend, multiply, and stretch the notes.
Trueman says, "Like the prepared piano, the prepared digital piano feels just like a piano under the hands and often sounds like one, but it is full of surprises; instead of bolts and screws stuck between the piano strings, virtual machines of various sorts adorn the virtual strings of the digital piano, transforming it into an instrument that pushes back, sometimes like a metronome, other times like a recording played backwards."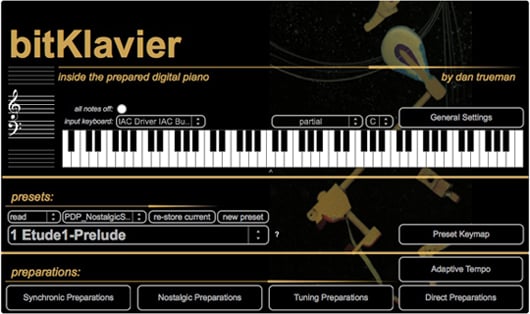 Many of his compositional ideas come from an ancient instrument from Norway called the "Hardanger" fiddle. Dan will perform some traditional tunes on the fiddle, and Adam will perform Trueman's set of etudes for the bitKlavier called "Nostalgic Synchronic."
After the concert, Adam and Dan will be available to speak informally with audience members and answer questions.
This concert will appeal to fans of traditional folk music, cutting edge tech, and the classical piano tradition.
Find lots of interesting info about the duo, the bitKlavier, the etudes and more at their website.
Read more about Dan Trueman here.
Read more about Adam Sliwinski here.
Funding for this concert is provided by the Edward C. & Ann T. Roberts Foundation.
ABOUT THE ARTISTS
Dan Trueman
Dan Trueman is a composer, fiddler, and electronic musician. He began studying violin at the age of 4, and decades later, after a chance encounter, fell in love with the Norwegian Hardanger fiddle, an instrument and tradition that has deeply affected all of his work, whether as a fiddler, a composer, or musical explorer.
Dan's current projects include: a double-quartet for So Percussion and the JACK Quartet, commissioned by the Barlow Foundation; Olagón — an evening length work in collaboration with singer Iarla Ó Lionáird, poet Paul Muldoon, and eighth blackbird; the Prepared Digital Piano project; a collaborative dance project with choreographer Rebecca Lazier and scientist Naomi Leonard; ongoing collaborations with Irish fiddler Caoimhín Ó Raghallaigh and guitarist Monica Mugan (Trollstilt). His recent albums with Adam Sliwinski (Nostalgic Synchronic), Ó Raghallaigh (Laghdú) and So Percussion (neither Anvil nor Pulley) have met with wide acclaim.
His explorations have ranged from the oldest to the newest technologies; Dan co-founded the Princeton Laptop Orchestra, the first ensemble of its size and kind that has led to the formation of similarly inspired ensembles across the world, from Oslo to Dublin, to Stanford and Bangkok. Dan's compositional work reflects this complex and broad range of activities, exploring rhythmic connections between traditional dance music and machines, for instance, or engaging with the unusual phrasing, tuning and ornamentation of the traditional Norwegian music while trying to discover new music that is singularly inspired by, and only possible with, new digital instruments that he designs and constructs. His tools of the trade are the first-of-its-kind Hardanger d'Amore fiddle by Salve Hakedal (played with a beautiful baroque bow by Michel Jamonneau), and the ChucK music programming language by Ge Wang.
Dan's work has been recognized by fellowships, grants, commissions, and awards from the Guggenheim Foundation, the Barlow Endowment, the Fulbright Commission, the American Composers Forum, the American Council of Learned Societies, Meet the Composer, among others. He is Professor of Music and Director of the Princeton Sound Kitchen at Princeton University, where he teaches counterpoint, electronic music, and composition.
Adam Sliwinski
Adam Sliwinski has built a dynamic career of creative collaboration as percussionist, pianist, conductor, teacher, and writer. He specializes in bringing composers, performers, and other artists together to create exciting new work. A member of the ensemble So Percussion (proclaimed as "brilliant" and "consistently impressive" by the New York Times) since 2002, Adam has performed at venues as diverse as Carnegie Hall, The Bonnaroo Festival, Disney Concert Hall with the LA Philharmonic, and everything in between. So Percussion has also toured extensively around the world, including multiple featured performances at the Barbican Centre in London, and tours to France, Germany, The Netherlands, South America, Australia, and Russia.
Adam has been praised as a soloist by the New York Times for his "shapely, thoughtfully nuanced" playing. He has performed as a percussionist many times with the International Contemporary Ensemble, founded by classmates from Oberlin. Though he trained primarily as a percussionist, Adam's first major solo album, released in 2015 on New Amsterdam, is a collection of etudes called Nostalgic Synchronic for the bitKlavier, an invention of Princeton colleague Dan Trueman. In recent years, Adam's collaborations have also grown to include conducting. He has conducted over a dozen world premieres with the International Contemporary Ensemble, including residencies at Harvard, Columbia, and NYU. In 2014, ECM Records released the live recording of the premiere of Vijay Iyer's Radhe Radhe with Adam conducting.
Adam writes about music on his blog. He has also contributed a series of articles to newmusicbox.org, and the Cambridge Companion to Percussion from Cambridge University Press features his chapter "Lost and Found: Percussion Chamber Music and the Modern Age."
Adam is co-director of the So Percussion Summer Institute, an annual intensive course on the campus of Princeton University for college-aged percussionists. He is also co-director of the percussion program at the Bard College Conservatory of Music, and has taught percussion both in masterclass and privately at more than 80 conservatories and universities in the USA and internationally. Along with his colleagues in So Percussion, Adam is Edward T. Cone performer-in-residence at Princeton University. He received his Doctor of Musical Arts and his Masters degrees at Yale with marimba soloist Robert van Sice, and his Bachelors at the Oberlin Conservatory of Music with Michael Rosen.