Event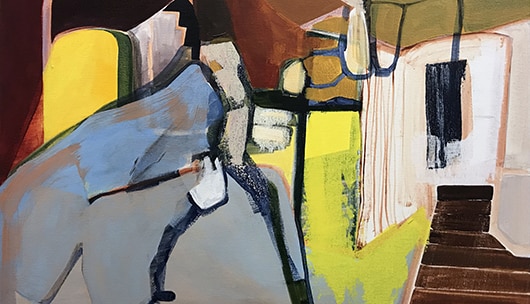 ARTS
Niki Kriese: Chewing the Scenery
Artist Talk: Saturday, March 9 | 2:30 PM 
2018 Real Art Award recipient Niki Kriese presents new works in her solo exhibition Chewing the Scenery. In her paintings, Kriese utilizes vernacular locations like gardens or skateparks to craft complex figure ground studies. The resulting images contain a strong sense of nuance while delving into issues surrounding duality, specificity, and sense of place. Her compositions contain a playful weirdness while simultaneously referencing abandonment.
Says Visual Arts Coordinator Neil Daigle Orians, "Niki's work allows, and in fact encourages, the viewer to imagine a space that is familiar, but not too familiar. During a studio visit, I fell in love with her process of collaging images that ultimately become the disjointed, technicolor spaces of color and texture."
On view January 17 – March 31, 2019
Opening reception: Thursday, January 17, 6-8 PM during Creative Cocktail Hour
Artist talk: Saturday, March 9, 3 PM
About the Artist
After barely graduating with her MFA from Rhode Island School of Design in 2007, Niki Kriese moved to New York in search of fame, fortune, and falafel. She doesn't remember anything before that. She makes art and lives in the Hudson Valley with her husband and freaking adorable kids.
About the Real Art Awards
The 2018 Real Art Awards competition was open at no charge to artists living in New York, New Jersey, Connecticut, Massachusetts, Rhode Island, Vermont, New Hampshire and Maine. Niki was one of six artists chosen from a field of 286 applicants. The three jurors were multimedia artist Saya Woolfalk; New Britain Museum of American Art Director Min Jung Kim; and Real Art Ways Executive Director Will K. Wilkins.
The 2018 Real Art Awards is supported in part by the National Endowment for the Arts and The Edward C. and Ann T. Roberts Foundation.
Featured image: Between Us (detail), 2018, 20" x 24", acrylic on canvas