Event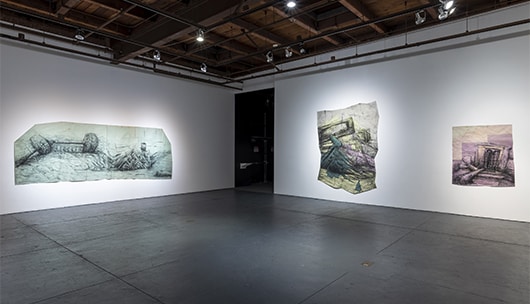 Real Art Ways presents a solo exhibition of new work by Norwalk-based artist Kenny Martin.
Taking its title from the Latin word for 'shipwreck' or 'wreckage,' Naufragium sees Martin create large, immersive drawings based on first-hand encounters with regional shipwrecks. Using charcoal, chalk, pastels, and adhesive marks atop sculpturally layered, recycled paper, Martin depicts images of submarine wreckage and obstructions he observes while freediving. Freediving, Martin shares, "means breath-hold diving—using a snorkel and mask, wetsuit and fins, descending for a few minutes each dive." The resulting drawings are recollections of forms and underwater environments that the artist desires to revisit.
As Martin notes, "the images produced are abstracted by time and perspective, by the ocean current and fluctuation of light, by movement and memory. The drawings are textural and structural." Naufragium recalls Martin's visits to often dark, submarine locations of the Long Island Sound and Northwest Atlantic, some forgotten to the human world. These topical locales—'shipwrecks' or abstract piles of aged iron—appear as anthropomorphic behemoths and frail vestiges, all laying as motionless bastions of gravity and time.
About the Artist:
Kenny Martin is an artist and art educator based in Norwalk, CT, where he lives with his wife and son. Martin holds a BFA in Sculpture from Syracuse University, and has exhibited artwork in various mediums across the Northeast, as well as in the New York metropolitan area, Florence, and Madrid. His work invokes a physical connection to the ocean's depths.
After years spent freediving from Maine to Carolina, and regularly working charters aboard the Bandit, out of Bay Shore, NY, Martin is now featured at Real Art Ways for his first solo exhibition. Initiated while working with Professor Peter Waite of Wesleyan University, Martin's recent body of work is an extension of his independent study through the Graduate Liberal Studies Program.
Welcoming You Back Safely:
As you return to our physical space, your health and safety is our top priority. To learn about all the steps we have taken to prepare and our new procedures visit our Welcoming You Back page.
Photo Credit: John Groo