Event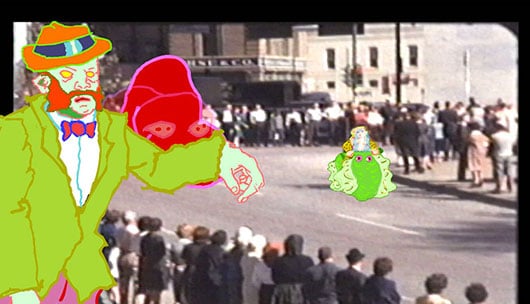 From July 18 – September 29 in our Video Room, Real Art Ways is screening 3 of Mike Estabrook's videos:
Staircase, 4 min. 5 sec.,
The Good, Etc., 5 min. 10 sec.,
B-Potemk, 6 min. 51 sec.
These works explore Estabrook's experiments in video, including appropriating from video and film, hand drawn animation, projection, and more. Originally a site-specific installation, Staircase offers a bizarre narrative jumping between prehistoric and contemporary scenes through hand drawn imagery. The Good, Etc. utilizes the iconic showdown scene from The Good, The Bad, and The Ugly and reimagines it using hand drawn animated interventions. The climactic scene of B-Potemk is further distorted into chaos by Estabrook's imagery. The overall effect is a surreal trip that exploits the viewer's sense of nostalgia
About the Artist
Mike Estabrook was born in Quincy, Illinois and lives and works in Brooklyn, New York. His work spans several media, including animation, painting, drawing, performance and installation. Estabrook's work has also been shown at several venues, including P.P.O.W. gallery, the Queens Museum of Art, P.S.1, Arario Gallery, Nurture Art, and the Bronx Museum of the Arts. He has been in residence at The MacDowell Colony, both the workspace and the Governors Island residency at Lower Manhattan Cultural Council, and NY Arts Beijing.