Event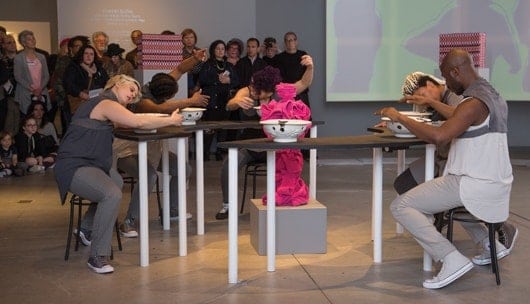 ARTS
Member Appreciation Event: Reaction Bubble Dance Performance and Panel Discussion
What does the physical distance between us mean?
Reaction Bubble is an installation that includes custom electronics, video, ceramic sculpture, and choreography, and this presentation is the culmination of a four-year collaboration. The artists who worked together to create Reaction Bubble are the team of LoVid (Tali Hinkis and Kyle Lapidus), choreographer Deborah Goffe and ceramicist Matthew Towers. Real Art Ways introduced the artists to each other in 2012.
Dance Performance
Dancers interact with the Reaction Bubble installation and each other as they explore the impact and significance of Public Space, Social Space, Personal Space and Intimate Space.
The performance is choreographed and performed by Deborah Goffe in collaboration with Safi Harriott, Rosanna Karabetsos, Kate Seethaler and Arien Wilkerson. Sound design by Deborah Goffe in collaboration with Arien Wilkerson, and with music by Kode9, Murcof, Julia Holter and Holly Herndon.
Panel Discussion
After the Dance Performance, LoVid (Tali Hinkis and Kyle Lapidus), Deborah Goffe and Matthew Towers will participate in a panel discussion moderated by Real Art Ways Visual Arts Coordinator, Neil Daigle-Orians and take questions from members.
Free for Members and their Guests
Please RSVP to Amanda Baker at this link with the number of people attending.
The project received major support from The Robert Rauschenberg Foundation. Important funders include the Edward C. and Ann T. Roberts Foundation, the J. Walton Bissell Foundation and the National Endowment for the Arts.
About the Choreographic Team
Deborah Goffe is a performer, choreographer, dance educator, performance curator, and intermittent video artist. She is founder of Scapegoat Garden, a Connecticut-based collaborative dance theater, driven to create compelling, interdisciplinary performance that goes in through the nose, eyes, skin, ears and mouth to stir those who witness or participate. Scapegoat Garden strives to forge relationships between artists and communities, helping people see, create and contribute to a greater vision of ourselves, each other, and the places we call home. Deborah holds a BFA in Modern Dance from the University of the Arts School of Dance in Philadelphia, Pennsylvania and an MFA in Dance Performance and Choreography from California Institute of the Arts. Since Scapegoat Garden's founding, Deborah has been devoted to the revitalization of local dance eco-systems and the role of performance curation in such processes. To this end, she recently earned a Professional Certificate from Wesleyan University's Institute for Curatorial Practice in Performance. She has been honored by the Connecticut Dance Alliance for Distinguished Achievement in Dance, and has received Artists Fellowship Grants from the Connecticut Office of the Arts, the Greater Hartford Arts Council, and the Surdna Foundation. Deborah has participated as New England Emerging Choreographer at the Bates Dance Festival in Lewiston, Maine and has served as a yearlong Artist-in-Residence at Billings Forge Community Works. As an educator, Deborah has taught dance and related courses in several institutions, including California Institute of the Arts, Wesleyan University, CulturArte—a youth arts summer residency program in Cape Verde, Africa, and currently serves as Assistant Professor of Modern/Contemporary Dance at Hampshire College in Amherst, Massachusetts where she is excited to expand her experience of dance and place in a new context.
Safi Harriott specializes in dance education and cultural studies. She combines an awareness of her own movement through the world with an evolving understanding of systems of power and their impact on individual bodies. She has served as Visiting Lecturer in Dance at the Excelsior Community College in Kingston, Jamaica. She has also served as adjunct faculty and External Examiner (Repertory, Intermediate Modern Technique, Improvisation) for the Edna Manley College (EMCVPA) School of Dance. Harriott has facilitated workshops and presented choreography for the Kingston on the Edge Urban Arts Festival, the National Gallery of Jamaica, and the Jamaica Dance Umbrella (JDU) in addition to serving as primary coordinator and assistant to the Curator for the JDU and Junior JDU. Committed to international exchange, she has performed and co- taught in Kingston and New York with collaborators Zita Nyarady (Toronto, Canada) and Nancy Hughes (Buffalo NY, USA). More recently, she has served as Visiting Dance Faculty at the Cambridge School of Weston. In 2014 she received an MFA in Choreography and Performance from Smith College. Harriott has also trained at the Laban Bartenieff Institute of Movement Studies, and is currently an MA candidate in Socio-cultural Anthropology at Columbia University.
Rosanna Krabetsos is a Hartford-based dancer who has studied and performed a wide range of dance forms, with primary emphasis on contemporary, hip-hop and commercial dance. A graduate of the Greater Hartford Academy of the Arts, she is honored to have worked with artists like Kim Stroud (formerly of the Martha Graham Dance Company); Jennifer Weber (DECAdance); Kate St. Amand and Lynn Peterson (SYREN Modern Dance); Caroline Fermin (Galim Dance); Clyde Evans (Rennie Harris Pure Movement), Deborah Goffe and Leslie Frye Maietta (Scapegoat Garden). During high school, her summers were spent at Earl Mosley's Institute of the Arts where she worked with Fredrick Earl Mosley, Nathan Trice, Kevin Wynn, Crystal Frazier and Rennie Harris (Rennie Harris Pure Movement), to name a few. Rosanna is currently signed to DFX Entertainment, which performs at the Mohegan Sun, Foxwoods Casinos, and other major venues. She also performs on the dance teams supporting the New England Black Wolves and the Connecticut Sun WNBA team. As an artist, Rosanna focuses locally, and is driven by a love of collaboration and the belief that dance can be a container for all of life. She is a founding member and collaborator with TNMOT AZTRO, having performed in events throughout Connecticut, including the 5×5 Dance Festival at the University of Saint Joseph and an evening length performance at Real Art Ways. Rosanna is also a lead choreographer and puppeteer for Anne Cubberly's Nightfall, an annual interdisciplinary site-specific performance event in Hartford, and serves as the Creative Director of Hartford's first and only beauty collective, Tainted Inc.
Based in Northampton, Massachusetts, Kate Seethaler currently teaches dance and movement at Springfield College and the School for Contemporary Dance and Thought. She rehearses with choreographers Katie Martin and Whitney Wilson. She also creates her own choreographic work under the newly formed skeleton collaborative, which will launch in the next year through her participation as Artist in Residence at the School for Contemporary Dance in Northampton. Kate earned her MFA in Dance from Smith College in May 2016. At Smith, she focused her interests on performance and compositional improvisation, studying with Angie Hauser, Chris Aiken, and Jennifer Nugent amongst others. Kate has most recently performed in the work of Stephanie Turner, Jennifer Nugent, Stephanie Maher, Joy Davis, and Emily Lukasewski. In 2015, she attended Bates Dance Festival as a collaborator/performer in the work of Kellie Lynch, a BDF Emerging Choreographer. Kate received her full mat and equipment Pilates certification in 2012 at Aldrich Pilates in New Haven, CT. The efficiency and clarity of the body that Pilates training provides continually informs her approach to movement generation. Kate's choreographic work has been performed at Elm City Dance Festival, the International Festival of Arts and Ideas, Smith College, Springfield College, The Taft School and The Ethel Walker School amongst other venues. Her most recent choreographic interests lie in the dichotomy of exploring a deeply personal and fiercely internal physiological landscape and dismantling the external hierarchy between audience and performer(s). She earned a BA in Dance, with minors in theater and philosophy, from Springfield College in 2008.
Arien Wilkerson is a choreographer, dancer, and video artist. The Hartford-native began his dance training under the tutelage of Jolet Creary, and has been a student at the Greater Hartford Academy of the Arts, The Artists Collective, Earl Mosley Institute of the Arts, and at the Batsheva Dance Company's Gaga Intensive in Tel Aviv. In 2008, he was a scholarship recipient for travel to Cape Verde, Africa to participate in CulturArte, a youth arts residency program where he studied with Mano Preto (Artistic Director of Raiz di Polon) and Deborah Goffe (Artistic Director of scapegoat Garden). As a high school senior in 2009, David Dorfman and Nicole Stanton selected his work for inclusion in Wesleyan University's Dance Masters programming, recognizing his artistic potential as a young choreographer among more established New England choreographers. Since then, he has set choreographic works on EQuilibrium Dance Theater, CONNetic Dance collaborations, and Ruth Lewis Dimensional Dance. He has also performed as a special guest in Doug Elkin's in Fraulein Maria at the Hartford stage, and choreographed for Anne Cubberly's Nightfall. In his role as Artistic Director of TNMOT AZTRO, Arien has been commissioned by Hartford's Town & County Club and Open Studio Hartford to develop iterations of his BLACK BOY JUNGLE and Punching Bag. As an Artist in Residence at The Garden Center for Contemporary Dance (2013-2014), Arien developed three iterations of his work, The Projector Series, and while there, served as co-facilitator for the Invisible City Project Cooperative, an initiative designed to share resources among Hartford-based dance artists. The Projector Series 1.4, the fourth and final installment of the project, was presented to 3 sold-out audiences at Real Art Ways in 2016.