Event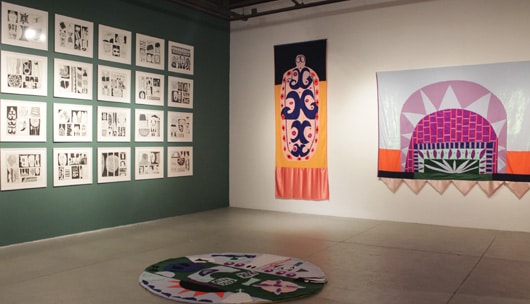 Shields explores ideas about vulnerability, protection, blindness or obscured vision, and non-verbal/pictorial signification. The imagery stems from ancient Middle Eastern and African shields and armor (for humans as well as for animals in battle), but the work reflects a broad imagining of what shields might be, what they accomplish, and when and why they are used.
Shields seem to be objects of protection, but they are also markers of vulnerability, weights that complicate agility, screens that compromise vision, and ornate, celebratory displays of identity or belonging. A shield protects and divides, standing between one thing and another.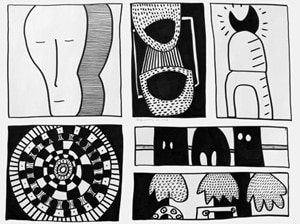 In geological terms, "shield" signifies a rigid, ancient layer of the Earth's crust that withstands change without succumbing to pressure, without folding up into a mountain range or buckling down into a crater.
Shields also function as markers of authority, nationality, or inclusion, bearing signs, insignias, or serving as identifying badges. In battle, a shield is typically forged from metal, wood, or another hard material, protecting a vulnerable body behind it.
Utilitarian objects of protection and defense, shields are also ornate aesthetic objects that hover between sculpture and painting. Craig's Shields invites viewers to consider the relationships between defense and design, insulation and exposure, visibility and invisibility.
The exhibition includes black and white drawings, paintings, and malleable sewn works, as well as a site-specific, participatory installation that invites visitors to create and display their own shields. A 16-page hand-drawn zine accompanies the show.
About Megan Craig
Megan Craig is a visual artist and an Associate Professor of philosophy and art at Stony Brook University. Recent solo shows include Rose Sings at Kunstverein Grafschaft Bentheim in Germany, Lines of Flight at Sundaram Tagore Gallery in New York, and If and How at Scott and Bowne Fine Art in Connecticut. Craig has also produced several large-scale participatory public performance works, including most recently Traveling in Place (2017) with Rachel Bernsen at The Yale Art Gallery, Gather Round (2017 – 2018) in conjunction with Cold Spring School in New Haven, CT, and The Way Things Felt (2016), commissioned by Artspace and supported by the National Endowment for the Arts.
Craig has been awarded painting residencies and grants from several institutions including the Pollack Krasner Foundation, The Weir Farm Trust, The Lower Manhattan Cultural Council, Vermont Studio Center, and the New York Arts Foundation.
At Stony Brook University, she teaches courses in aesthetics, ethics, French phenomenology, psychoanalysis, and American philosophy. Her research is focused around accounts of memory, sensibility, and ambiguity – with a focus on sensation, synesthesia, and color perception.
Craig is also the graphic designer for Firehouse 12 Records, and a mother of two.