Event
ARTS
Mark Dresser, Gerry Hemingway, and Marilyn Crispell in Concert
Real Art Ways presents a free summer concert on Friday, 7/7 at 7:30pm featuring Mark Dresser on bass, Gerry Hemmingway on percussion, and Marilyn Crispell on piano. Admission is free. Funding for this performance is provided by the Evelyn Preston Fund.
Mark Dresser – bass
"Calling contrabassist Mark Dresser a virtuoso is like saying Albert Einstein was good at math." San Diego City Times.

"Mr. Dresser, a bassist who is one of the great instrumental forces in recent American jazz outside of the mainstream." – New York Times
Mark Dresser  is a Grammy nominated, internationally renowned bass player, improviser, composer, and interdisciplinary collaborator. He has recorded over one hundred forty CDs including three solo CDs and a DVD. From 1985 to 1994, he was a member of Anthony Braxton's Quartet, which recorded nine CDs and was the subject of Graham Locke's book Forces in Motion (Da Capo). He has also performed and recorded music of Ray Anderson, Jane Ira Bloom, Tim Berne, Anthony Davis, Dave Douglas, Osvaldo Golijov, Gerry Hemingway, Bob Ostertag, Joe Lovano, Roger Reynolds, Henry Threadgill, Dawn Upshaw, John Zorn. Dresser most recent and internationally acclaimed new music for jazz quintet, Nourishments (2013) his latest CD (Clean Feed) marks his re-immersion as a bandleader. Since 2007 he has been deeply involved in telematic music performance and education. He was awarded a 2015 Shifting Foundation Award and 2015 Doris Duke Impact Award. He is Professor of Music at University of California, San Diego. More information can be found here.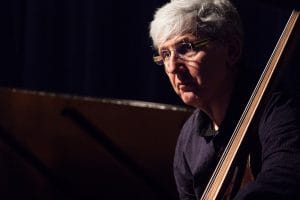 Gerry Hemingway – Drums/Percussion
Gerry Hemingway is an American drummer and composer. Hemingway was a member of the Anthony Braxton quartet from 1983 to 1994. He has also performed with Ernst Reijseger, Anthony Davis, Earl Howard, Leo Smith, George E. Lewis, Ray Anderson, Mark Helias, Reggie Workman, Michael Moore, Oliver Lake, Marilyn Crispell, Christy Doran, John Wolf Brennan, Don Byron, Cecil Taylor, and Cuong Vu.
Hemingway received a Guggenheim Fellowship for his work in music composition in 2000, and was a student of Alan Dawson. He is a graduate of Foote School in New Haven. He has recorded on over one hundred albums for the labels Clean Feed, Enja, hatArt, Palmetto, Random Acoustics, and Tzadik. He owns his own label, Auricle. More information can be found here.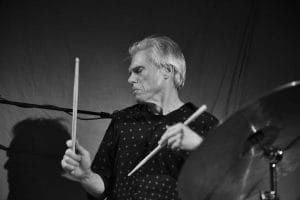 Marilyn Crispell – Piano
"Hearing Marilyn Crispell play solo piano is like monitoring an active volcano. She is one of a very few pianists who rise to the challenge of free jazz." – New York Times

"Marilyn Crispell….has been one of the most deliciously unpredictable and distinctive piano improvisers in jazz for more than four decades." – The Chicago Reader 
Marilyn Crispell has been a composer and performer of contemporary improvised music since 1978. For ten years, she was a member of the Anthony Braxton Quartet and the Reggie Workman Ensemble, and she has performed and recorded extensively as a soloist and with players on the American and international jazz scene, also working with dancers, poets, film-makers and visual artists, and teaching workshops in improvisation. She has been the recipient of three New York Foundation for the Arts Fellowship grants, a Guggenheim Fellowship, and a Mary Flagler Cary Charitable Trust composition commission. For more information, click here.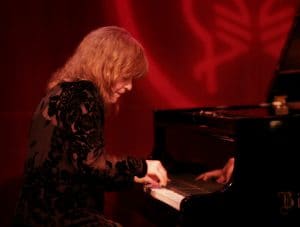 Photo by: Claire Stefani