Event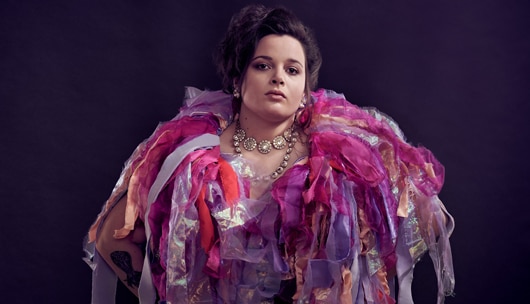 ARTS
Real Wall: Lauren Be Dear
Real Art Ways presents
Through the Veil
, an installation and performance by Hartford-based artist Lauren Be Dear and part of the
Real Wall
series. The installation will open on Thursday, July 15 with performances at 7:00 PM and 9:15 PM during the Creative Cocktail Hour. 
Artist Statement:
"Through the Veil is an interactive collage of fabrics, photographs, jewelry and letters. The fabrics on the base layer have been spray painted and dyed, and tied and woven together to connect each item. Every element holds a personal meaning or memory associated with the history and lineage of my bipolar disorder. The letters are mostly from my father, who wrote to me from the hospital when he was ill, and when I was in the hospital myself. Plastic bags hold miscellaneous items that were in my possession when I entered the hospital that have since been returned to me. As if caught on the edges of the piece, feathers stick out, counting down my episodes: one black feather for every major depression I've experienced, and one brown/gold feather for every manic episode. The surface layer of the piece consists of strips of different fabrics knotted together without adhesives. This surface layer is meant to be interactive, allowing the audience to move the strips of fabric in order to view the base layer behind it. 
I draw on my disorder's history in my work as a way to heal, advocate and inform. In the process of mapping out my experiences, I attempt to reframe and alter my own perspective, and to shed unhelpful emotions. Many of us are taught to hide away our traumas, but I have learned that through the process of exposing them, they hold less power over our lives, and allow space for acceptance and/or forgiveness. I hope to spark a deeper discussion that travels beyond stigma; A discussion that moves into vulnerable territory: the stories and memories we sweep under the rug, the words that get lodged in our throats because we fear their reception. I hope these words and stories will be met with a compassionate ear, provide relief to the speaker, and facilitate further healing for both."
About the Artist:
Lauren Be Dear is an interdisciplinary artist and spoken word poet from West Hartford, Connecticut. She has studied at Bennington College and Manchester Community College. Under the name FemmeGod, she released a collection of avant-garde pieces at the 2015 Hartford Fashion Week, and created two pieces for Hartford's Trashion Fashion Show. In 2018, Lauren participated in Mental Health Connecticut's "Write On!" program. She has since worked closely with the organization to help advocate for individuals with mental health issues, and to promote the use of writing as a coping tool for expression and healing. She currently lives and has a studio in Downtown Hartford.
Image: Portrait of the artist, Courtesy the artist
Welcoming You Back Safely:
As you return to our physical space, your health and safety is our top priority. To learn about all the steps we have taken to prepare and our new procedures visit our Welcoming You Back page.