Event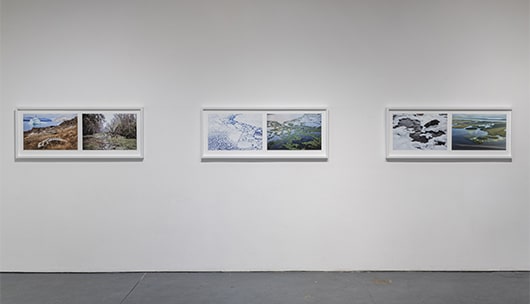 ARTS
Lamentations
Tina Freeman
Real Art Ways presents an exhibition by New Orleans-based artist Tina Freeman.
Over the past seven years, Tina Freeman has photographed the wetlands of Louisiana and the glacial landscapes of the Arctic and Antarctica. In Lamentations, Freeman pairs images from these dissimilar regions in a series of diptychs that function as stories about climate change, ecological balance, and the symbiotic relationship between disparate environments over time. Each pairing is chosen for the ways in which they relate, aesthetically and practically, demonstrating how rising sea level along the coast of Louisiana is both visually and physically connected to melting glaciers at the poles, despite the separation of vast distances. The large, color photographs in Lamentations make plain the crucial, threatening, and global dialogue between water in two physical states.
Organized by the New Orleans Museum of Art.
The presentation of Tina Freeman: Lamentations at Real Art Ways is made possible by support from Agnes and Billy Peelle.
Text courtesy of Tina Freeman, artist and Russell Lord, Curator of Photographs, NOMA.
About the Artist:
For the past forty-five years, Tina Freeman has focused on revealing interior subjects through the exploration of physical environments and natural light. In addition to architecture and interiors in her native New Orleans and around the United States and Europe, Freeman's subjects include urban warehouses and Louisiana's natural landscape and backcountry swamps.
Freeman's photographs have been published by The New York Times Magazine, Art and Antiques, Connoisseur, House & Garden, Elle Decor, and Architectural Digest. In addition to receiving an "Art in Public Places" commission from National Endowment for the Arts, Freeman's work has been exhibited in New Orleans, New York, Los Angeles, London and Moscow, and is included in permanent collections of the Bibliothèque Nationale de France (Paris), the National Media Museum (Bradford, UK), the New Orleans Museum of Art, and the Luciano Benetton Imago Mundi Collection in Italy. In the 1970s, Freeman photographed Andy Warhol in New York and Paris, capturing the image of Warhol used for the cover of the French edition of his book, Ma Philosophie de A à B.
Welcoming You Back Safely:
As you return to our physical space, your health and safety is our top priority. To learn about all the steps we have taken to prepare and our new procedures visit our Welcoming You Back page.
Photo Credit: John Groo