Event
ARTS
Kris Allen and Benjamin Lanz in Concert
Real Art Ways presents a free concert on Wednesday, 9/13 at 7:30pm featuring West Hartford native's Kris Allen and Ben Lanz. Admission is free. Funding for this performance is provided by the Evelyn Preston Fund.
Their group Allen Lanz is an electroacoustic, synths and horns team of multi-instrumentalist Ben Lanz and saxophonist Kris Allen. Ben and Kris, who've known each other practically since birth (and started playing music together shortly after) got together in 2021 to start working on this project, blending and interacting their acoustic instruments with generative modular synthesis and these explorations organically blossomed into a collection of sonically immersive songs, improvisations and soundscapes. Allen Lanz brings influence from Ben and Kris' respective musical worlds, Indie Rock and Jazz. Allen Lanz fills out their live band with drummer Robin Baytas. They will be touring as a trio this fall in support of their upcoming release Ballard on Brassland Records. The album's name, Ballard, comes from the West Hartford street where Ben grew up.
Kris Allen
Kris Allen is an American saxophonist, composer, educator, and recording artist. He can be found touring widely as a leader or as part of the collaboratively-led "Triangle Offense" trio with Jonathan Barber and Matt Dwonszyk. He has also enjoyed a long career as a sought-after sideman, working in the groups of Illinois Jacquet, Gerald Wilson, Andy Gonzales, Jimmy Greene, Helen Sung, Winard Harper, Andy Laverne, the Mingus Dynasty, Avery Sharpe, Andy Jaffe, Earl Macdonald, Noah Baerman, Ike Sturm, Rogerio Boccato, Kendrick Oliver's New Life Orchestra, the Curtis Brothers, and Mario Pavone among others. As a composer, Kris has been honored with numerous awards, commissions and residencies including a State of Connecticut Artist Fellowship and a Macdowell Artist Colony Residency. He has collaborated with dancers, poets, and visual artists, as well as musicians from across diverse genres. More information on Kris can be found here.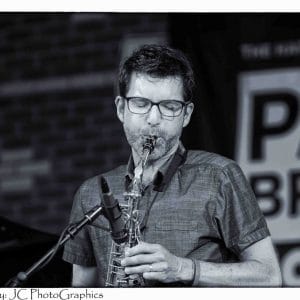 Benjamin Lanz
Benjamin Lanz is a multi instrumental musician, arranger, songwriter, and composer. Most commonly associated with the bands The National and Beirut, Ben has also worked with Sufjan Stevens, Booker T Jones, Taylor Swift, and Sharon Van Etten. As a horn player, mainly a trombonist, but tuba and other horns as well, Benjamin has performed across the musical spectrum, from The Kočani Arkester, to The Kennedy Center Opera Orchestra, to Anthony Braxton and everything in between. As a guitarist and multi instrumentalist, Ben fronts the band LNZNDRF with Scott and Bryan Devendorf (The National) and Aaron Arntz (Beirut, Grizzly Bear), as well as his own solo songwriting project LANZ. More information on Benjamin can be found here.

'
Robin Baytas
Robin Baytas, a native of Montclair, New Jersey, and currently based in New York City, has toured worldwide with artists such as Claudio Roditi, Rachel Z, and Michael Mayo, performing at venues such as the Playboy Jazz Festival, Jazz at Lincoln Center, and the North Sea Jazz Festival. Having worked with indie-rock and pop bands in addition to jazz artists, his expertise and passions extend into electronics, synthesizers and techno production