Event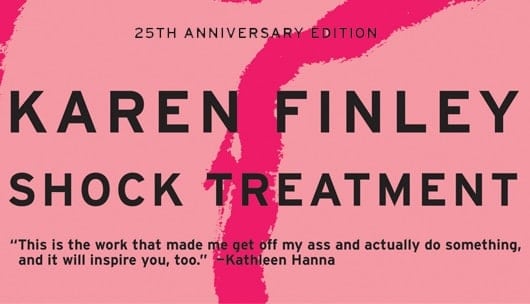 ARTS
Karen Finley: Shock Treatment
At the Mark Twain House
Real Art Ways and the Mark Twain House co-present artist and author KAREN FINLEY at the Mark Twain House.
No other artist captures the drama and fragility of the AIDS era as Karen Finley does in her 1990 classic book Shock Treatment. "The Black Sheep," "We Keep Our Victims Ready," "I Was Never Expected to Be Talented,"–these are some of the seminal works which excoriated homophobia and misogyny at a time when artists and writers were under attack for challenging the status quo.
This twenty-fifth anniversary expanded edition features a new introduction in which Finley reflects on publishing her first book as she became internationally known for being denied an NEA grant because of perceived obscenity in her work. She traces her journey from art school to burlesque gigs to the San Francisco North Beach literary scene. A new poem reminds us of Finley's disarming ability to respond to the era's most challenging issues with grace and humor.
KAREN FINLEY's raw and transgressive performances have long provoked controversy and debate. She has appeared and exhibited her visual art, performances, and plays internationally. The author of many books including A Different Kind of Intimacy, George & Martha, and The Reality Shows, she is a professor at the Tisch School of Art and Public Policy at NYU.
Tickets are $20, and $15 for Mark Twain House and Real Art Ways members