Event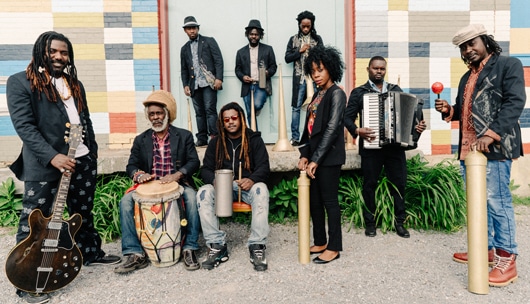 EVENTS
July Creative Cocktail Hour
Come with friends, or come by yourself.
Everyone is welcome, all ages, all backgrounds –
on the third Thursday of every month.
This month we're excited to feature:
Exhibition Opening – 6-8 PM. Meet the artist.
Noah Loesberg: Night Work
– Music: Lakou Mizik
Lakou Mizik is a powerhouse collective of Haitian roots music with a soulful energy and a mix of styles that feels mystical and familiar at the same time.
"Its songs, some of which are topical, draw on the rhythms and incantations of voodoo, the trumpeting of rara carnival music and hearty call-and-response vocal harmonies on their way to galloping, exultant dance grooves." – New York Times
– DJ Robo returns 
– Local Caribbean Food
– How Bazaar's Mobile Vintage Shop
– Bicyclists – Ride to Creative Cocktail Hour and get in for $5. RAW members on bikes get in free.
Community. Connections. Creativity.