Event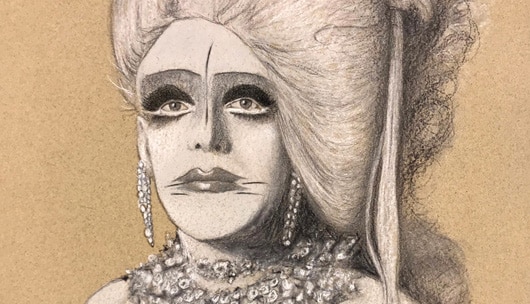 ARTS
John Kelly: Sideways into the Shadows
John Kelly has been producing creative work in the worlds of dance, performance, and visual art for decades. Sideways into the Shadows combines his work in drawing and performance to give an insightful yet contemporary look into his history and process.
Alongside portraits of artists and friends who died of HIV/AIDS, Sideways into the Shadows includes hand-rendered transcriptions of journal entries originally written during the epidemic. Dating as far back as 1976, the entries weave in and out of humorous, honest, raw, and provocative moments. Says Kelly, "Beginning in 1982, my friends and colleagues were dying…AIDS has framed my story to an unavoidable degree. Their absence remains part of my work." The drawings serve as elegies to lost compatriots, artists, and creators.
The exhibit also includes video documentation of his previous performances, as well as a video installation in our Video Gallery.
Real Art Ways would like to acknowledge and thank Howl! Happening: An Arturo Vega Project for helping Sideways into the Shadows travel from their NYC gallery space to Hartford.
About John Kelly
John Kelly is a performance and visual artist whose multifaceted career spans more than three decades. His innovative performance works stem from autobiographical, cultural, gender, and identity issues, realized through the theatrical, visual, movement-based, and vocal delineation of character. Subjects have included the AIDS epidemic, the Berlin Wall, the Troubadours, and Expressionistic Film, and character studies based on Egon Schiele, Caravaggio, Antonin Artaud, Joni Mitchell, and Jean Cocteau.
To learn more about Kelly and view more of his work, visit his website.
Featured image: "Ethyl Eichelberger" (detail)  2018. Mixed media on paper. 14″ x 11″