Event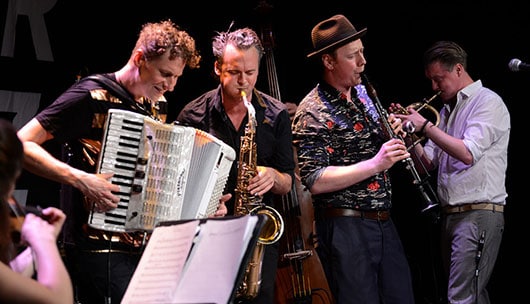 EVENTS
January Creative Cocktail Hour
Every third Thursday of the Month, creative, interesting and open-minded people gather to experience all kinds of art and connect with one another.
Featuring a concert by internationally renowned Danish Klezmer band Mames Babegenush on their US Tour.
Mames Babegenush unleash a sonic crossroads where east unexpectedly meets north! The band's unique musical fusion marries their strong Scandinavian roots and elements of jazz with the vibrant dance music and klezmer traditions of eastern Europe. From the contemplative ambience of Nordic snowscapes to the lively weddings of Romania, the music of Mames Babegenush exudes a sense of both poignant melancholy and irresistibly danceable exuberance.
Since forming in Copenhagen in 2004, the six-piece group has dazzled audiences and critics alike with their fresh vision and musical gumption, establishing themselves as one of Europe's premiere klezmer-jazz ensembles. Their long list of awards includes the Danish Music Award for Best World Album of The Year and three prizes awarded by the prestigious International Jewish Music Festival in Amsterdam, including the Jury and Audience Prizes.
It's impossible to listen to their exciting energy without feeling the urge to dance, move some part of one's body, or simply feel better about the world in general.
– Dr Judith Schlesinger, AllAboutJazz.com
Mames Babegenush features: Andreas Møllerhøj: double bass // Lukas Rande: saxophones // Morten Ærø: drums // Nicolai Kornerup: accordion// Bo Rande: flügelhorn // Emil Goldschmidt: clarinet
Real Art Ways will also be hosting the opening receptions for Skinny Boy Lookin' Like Deer in Headlights by 2019 Real Art Awards recipient Julian Johnson and Space Around a Porcupine by Morgan Bulkeley.

Food and Activities TBA