Event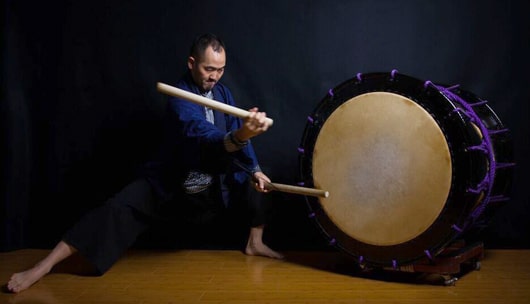 ARTS
Instrument Portrait Series: DRUM - Kaoru Watanabe
Real Art Ways presents three concerts that explore distinct types of drums. Each concert includes a discussion with the performing artists. 
Kaoru Watanabe's Néo featuring Fumi Tanakadate
"Néo is so ethereal that words to describe it skip like a breeze on water. It encompasses time and space from a culture that remains elusive and exotic, yet is audibly accessible in this presentation." – James Nadal, All About Jazz (Full review here.)
Kaoru Watanabe is a composer and musician, acclaimed for his innovative approach to powerful Japanese drums and the texturally rich melodies of the Japanese flutes. Joined by percussionist Fumi Tanakadate, the duo will play selections from their newly released album Néo.
Read an article about this concert in the Hartford Courant.
About Kaoru Watanabe
Kaoru Watanabe is a Brooklyn based composer and musician, who has a passion for cross-cultural and multi-disciplinary collaborations, working with such artists as National Living Treasure Bando Tamasaburo, Jason Moran, So Percussion, Adam Rudolph, directors Wes Anderson and Martin Scorsese and was a featured guest on Yo-Yo Ma's Grammy Award-winning album Sing Me Home.
Watanabe was a performer and artistic director of the internationally acclaimed Japanese taiko performing arts ensemble Kodo for close to a decade. Watanabe has performed his compositions at such prestigious venues as Carnegie Hall, Lincoln Center, The Kennedy Center, Kabukiza and in Minamiza, has performed in all 47 prefectures in Japan as well as across the North, Central and South Americas, Europe, Asia and Australia.
About Fumi Tanakadate
Fumi Tanakadate is a taiko artist and pianist based in New York, who has a unique combination of an expertise in European Classical music and a background in traditional folk dance and music from Japan. After studying extensively with Kaoru Watanabe, Fumi now performs frequently with Watanabe, often in a duo setting where she plays taiko and piano and sings, sometimes doing all at once. She has performed at such venues as Joe's Pub, National Sawdust, Pioneer Works, the Metropolitan Museum of Arts, the Rubin Museum of Art, Super Deluxe in Tokyo and at PASIC, Percussive Arts Society International Convention. Fumi has collaborated with Shane Shanahan of the Silkroad Ensemble, Brooklyn Raga Massive, Chieko Kojima and Yuta Sumiyoshi of KODO, Alicia Hall Moran, Satoshi Takeishi and Kiyohiko Semba.
Fumi also serves as the primary instructor at Kaoru Watanabe Taiko Center, teaching classes and giving educational workshops at local schools and colleges. As a classical pianist, Fumi has performed throughout Japan, tri-state area, Austria, and Spain. She holds a Bachelor of Arts degree in Earth and Environmental Sciences from Wesleyan University and a Master of Music degree in piano performance from Manhattan School of Music.
Major support comes from the Richard P. Garmany Fund.