Event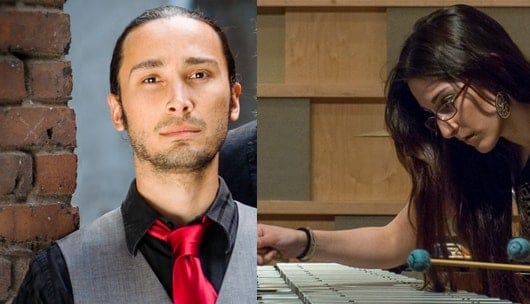 Curator musicians Joe Morris and Stephen Haynes join their invited guests for freely improvised music, created in real time. The listening environment encourages intimate and deep contact with the music, the musicians, and other audience members.
On Sunday, November 15 we continue our fifth Improvisations music series with fresh talent under the title Improvisations::Arcade. Sunday's event features Brad Barrett (bass) and Andria Nicodemou (vibes).
BRAD BARRETT is a bassist, multi-instrumentalist, composer, and educator born in Florida, raised in Texas, and currently residing in Boston Massachusetts. He is involved in projects ranging from jazz, bluegrass, folk, flamenco, and a variety of world musics. Brad is also an active member of the international avant garde/improvised music community and has performanced with Jason Moran, Julian Lage, Joe Morris, Kenwood Dennard, Bob Moses, Nate Wooley, Ingrid Laubrock, Agusti Fernandez, and Peter Evans.
ANDRIA NICODEMOU is an important emerging musician in the avant-garde, experimental, improvised, free jazz music idioms in the USA and Europe having worked with musicians such as Joe Morris, Anthony Coleman, Ikue Morri, Tayler Ho Bynum, Tatsuya Nakatani, Ab Baars, Anne La Berge.
Future Events:
SUNDAY DEC 13 | 3 PM: Dan Blacksberg (trombone), Daniel Levin (cello), Brandon Lopez (bass), Stephen Haynes (cornet), Joe Morris (guitar).
SUNDAY JAN 24 | 3 PM: Yasmine Azaiez (violin), Adam Matlock (accordion), Stephen Haynes (cornet), Joe Morris (guitar).