Event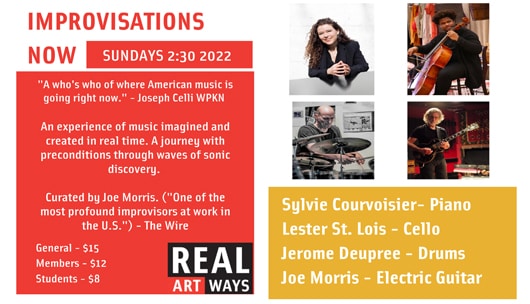 Improvisations Now - Sunday, Oct 2nd 2:30pm
An experience of music imagined and created in real time. A journey with preconditions through waves of sonic discovery.
Check out the entire series here.
Sylvie Courvoisier – Piano
"Courvoisier keeps you on the edge of your seat because it feels like the piano cannot
contain her. Her careening solos seem to overwhelm and overKlow the keyboard and keep spilling." – JazzTimes
Pianist-composer Sylvie Courvoisier, a native of Switzerland, has earned just renown for balancing two distinct worlds: the deep, richly detailed chamber music of her European roots and the grooving, hook-laden sounds of the downtown jazz scene in New York City, her home for more than two decades. Few artists feel truly at ease in both concert halls and jazz clubs, playing improvised or composed music. But Courvoisier – "a pianist of equal parts audacity and poise," according to The New York Times – is as compelling when performing Stravinsky's iconic Rite of Spring in league with Klamenco dancer- choreographer Israel Galván and pianist Cory Smythe as she is when improvising with her own widely acclaimed jazz trio, featuring bassist Drew Gress and drummer Kenny Wollesen. Then there are her ear- opening collaborations with such avant-jazz luminaries as John Zorn, Wadada Leo Smith, Evan Parker, Ikue Mori, Ellery Eskelin, Susie Ibarra, Fred Frith, Andrew Cyrille, Mark Feldman, Ken Vandermark, Nate Wooley and Mary Halvorson. In music as in life, Courvoisier crosses borders with a creative spirit and a free mind; her music-making is as playful as it is intense, as steeped in tradition as it is questing and intrepid.
Lester St. Louis – Cello
Lester St. Louis is a New York City-born and based multi-instrumentalist, composer, and curator. Lester has worked in, performed and created in artistic environments in The United States, Canada, South America, Europe and China with groups and artists such as Dré Hočevar Trio, Jaimie Branch Fly or Die, Ensemble Adapter, TAK Ensemble and many more. As a composer, Lester has been commissioned by artists such as the JACK Quartet, Mahan Esfahani and Stefan Jackiw, RAGE THORMBONES, Lauren Cauley and others. In the near future Lester will be continuing to develop groups such as MADD (with Dré Hočevar and Leafar) as well as TRANSFER (with Jordan Balaber, Daniel Brew and Rocío Bolaños) along with many new ventures.
Jerome Deupree – Drums
Jerome Deupree (born November 9, 1956) is an American musician, based in Massachusetts. He is best known as the original drummer in the alternative rock band Morphine. Deupree started playing drums at the age of six, with the help of his two older brothers. In the early 1970s he formed a band with his brother Jesse. After high school, he moved to Bloomington, Indiana, where he got to record for the first time. After a few years he again relocated to Santa Cruz, California, where he played with Humans, who toured with Squeeze and opened for Patti Smith and Iggy Pop. In 1981, he moved to Boston, and has lived there since. His early Boston projects included stints in Sex Execs and Either/Orchestra. Deupree played frequently with jazz guitarist Joe Morris, appearing on several recordings. He participated in a formative version of the band Beat Circus in 2002, and joined the Boston group Bourbon Princess for an extended time. He has also appeared as a session musician on records by Eric Hutchinson, Merrie Amsterburg, Jen Trynin, and James McMurtry. In 2009, Colley and Deupree began playing with New Orleans musician Jeremy Lyons as Members of Morphine, later renamed Vapors of Morphine. This trio performs classic Morphine songs and new material. Jerome left Vapors of Morphine in 2019.
Joe Morris – Guitar
"Joe Morris is the preeminent free music guitarist of his generation." –DownBeat Magazine

"One of the most profound improvisers at work in the U.S." – Wire Magazine 
He was born in New Haven Connecticut in 1955. He began playing guitar at the age of 14 first playing rock music, progressing to blues, then to jazz, free jazz and free improvisation. He released his first record Wraparound (riti) in 1983. He has composed over 200 original pieces of music. Morris has performed and/or recorded with many of the most important contemporary artists in improvised music including, Anthony Braxton, Evan Parker, John Zorn, Ken Vandermark, Mary Halvorson, Tyshawn Sorey, Tomeka Reid, Fay Victor, Tim Berne, William Parker, Sylvie Courvoisier, Agusti Fernandez, Peter Evans, David S. Ware, Joe Maneri, Dewey Redman, Fred Hopkins, Sunny Murray, Wadada Leo Smith, Leroy Jenkins, Lawrence D. "Butch" Morris, Marshall Allen, Barre Phillips, Barry Guy, Matthew Shipp, Gerald Cleaver, and many others.
Morris is featured as leader, co-leader, or sideman on more than 200 commercially released recordings on the labels ECM, ESPdisk, Clean Feed, Hat Hut, Aum Fidelity, Avant, OkkaDisk, Not Two, Soul Note, Leo, No Business, Rogue Art, Relative Pitch, Incus, RareNoise, Fundacja Sluchaj, and his own labels Riti and Glacial Erratic. Morris has toured extensively throughout North America and Europe as well as in Brazil, Korea and Japan.
He has lectured and conducted workshops on his own music and on improvisation in the US, Canada, and Europe including at Princeton University, Dartmouth College, Harvard University, Bard College, University of Alberta, and University of Guelph. He was the recipient of the 2016 Killam Visiting Scholar Award at University of Calgary. He has been on the faculty at Tufts University, Southern Connecticut State University, Longy School of Music of Bard College, and New School. Since 2000, he has been on the faculty in the Jazz and Contemporary Improvisation Department at New England Conservatory. Morris is the author of the book, Perpetual Frontier: The Properties of Free Music (Riti Publishing 2012).