Event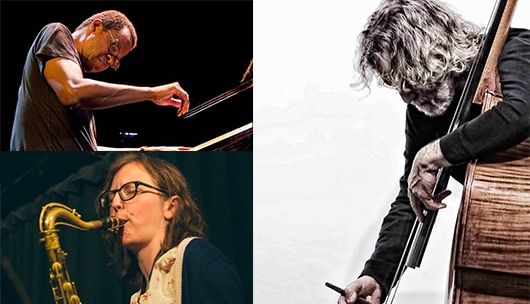 EVENTS
Improvisations Now - Sunday, Nov. 13
An experience of music imagined and created in real time. A journey with preconditions through waves of sonic discovery.
Check out the entire series here.
Matthew Shipp – Piano
"Shipp is the connection between the past, present, and future for jazz heads of all ages." – DOWNBEAT
Matthew Shipp (b. 1960) is an American pianist, composer, and bandleader. Shipp was raised in Wilmington, Delaware, and began playing piano at six years old.
Shipp was a longtime member of saxophonist David S. Ware's quartet with bassist William Parker and alternating drummers. He has recorded or performed with many other musicians including Barbara Januszkiewicz who, since 2011, has been exploring new territory through an avant-garde film called The Composer with Matthew Shipp / Barb Januszkiewicz. He has also collaborated with Michael Bisio and Newman Taylor Baker in The Matthew Shipp Trio, described as, "A must for free-jazz fans." by MarlBank.net.
On September 24, 2013, Thirsty Ear Records released a solo piano CD by Shipp called Piano Sutras. Will Layman, writing for PopMatters, described it as: "the kind of record we talk about and play for each other decades later… This is music that frames up a whole history: of an artist, of listeners, of the artists who formed the history of the art form, of the culture and time that allowed this art to flourish."
Shipp attended the University of Delaware for one year, then the New England Conservatory of Music, where he studied with saxophonist/composer Joe Maneri. He has cited private lessons with Dennis Sandole (who also taught saxophonist John Coltrane) as being crucial to his development.
Anna Webber – Tenor Saxophone
"Visionary and captivating" – The Wall Street Journal 

"Music that appeals to the rest of the body" – NPR Jazz Critics Poll 
Anna Webber (b. 1984) is a flutist, saxophonist, and composer whose interests and work live in the aesthetic overlap between avant-garde jazz and new classical music. In May 2021 she released Idiom, a double album featuring both a trio and a large ensemble, and a follow-up to her critically-acclaimed release Clockwise. Her 2020 release, Both Are True (Greenleaf Music), co-led with saxophonist/composer Angela Morris, was named a top ten best release of 2020 by The New York Times. She was recently named a 2021 Berlin Prize Fellow and was voted the top "Rising Star" flutist in the 2020 Downbeat Critic's Poll.
Webber is a 2018 Guggenheim Fellow. She has additionally been awarded grants from the Copland Fund (2021 & 2019), the Shifting Foundation (2015), the New York Foundation for the Arts (2017), the Conseil des arts et des lettres du Québec, and the Canada Council for the Arts and residencies from Exploring the Metropolis (2019), the MacDowell Colony (2017 & 2020), the Millay Colony for the Arts (2015), and the Brush Creek Foundation for the Arts (2014).
Originally from British Columbia, Webber studied music at McGill University in Montreal before moving to New York City in 2008. She holds master's degrees from both Manhattan School of Music and the Jazz Institute Berlin.
Joe Morris – Bass
"Joe Morris is the preeminent free music guitarist of his generation." –DownBeat Magazine

"One of the most profound improvisers at work in the U.S." – Wire Magazine 
Morris was born in New Haven Connecticut in 1955. He began playing guitar at the age of 14 first playing rock music, progressing to blues, then to jazz, free jazz and free improvisation. He released his first record Wraparound (riti) in 1983. He has composed over 200 original pieces of music. Morris has performed and/or recorded with many of the most important contemporary artists in improvised music including, Anthony Braxton, Evan Parker, John Zorn, Ken Vandermark, Mary Halvorson, Tyshawn Sorey, Tomeka Reid, Fay Victor, Tim Berne, William Parker, Sylvie Courvoisier, Agusti Fernandez, Peter Evans, David S. Ware, Joe Maneri, Dewey Redman, Fred Hopkins, Sunny Murray, Wadada Leo Smith, Leroy Jenkins, Lawrence D. "Butch" Morris, Marshall Allen, Barre Phillips, Barry Guy, Matthew Shipp, Gerald Cleaver, and many others.
Morris is featured as leader, co-leader, or sideman on more than 200 commercially released recordings on the labels ECM, ESPdisk, Clean Feed, Hat Hut, Aum Fidelity, Avant, OkkaDisk, Not Two, Soul Note, Leo, No Business, Rogue Art, Relative Pitch, Incus, RareNoise, Fundacja Sluchaj, and his own labels Riti and Glacial Erratic. Morris has toured extensively throughout North America and Europe as well as in Brazil, Korea and Japan.
He has lectured and conducted workshops on his own music and on improvisation in the US, Canada, and Europe including at Princeton University, Dartmouth College, Harvard University, Bard College, University of Alberta, and University of Guelph. He was the recipient of the 2016 Killam Visiting Scholar Award at University of Calgary. He has been on the faculty at Tufts University, Southern Connecticut State University, Longy School of Music of Bard College, and New School. Since 2000, he has been on the faculty in the Jazz and Contemporary Improvisation Department at New England Conservatory. Morris is the author of the book, Perpetual Frontier: The Properties of Free Music (Riti Publishing 2012).