Event
An experience of music imagined and created in real time. A journey with preconditions through waves of sonic discovery.
Check out the entire series here.
Matana Roberts – Alto Saxophone
Named Rising Star in both Alto Saxophone and Clarinet. –  Downbeat Magazine 

Receiver of a Doris Duke Impact Award in both 2014 & 2016.
Matana Roberts (b. 1975) is an American sound experimentalist, visual artist, jazz saxophonist and clarinetist, composer and improviser based in New York City. They have previously been an active member of the Association for the Advancement of Creative Musicians (AACM).
The works in their multichapter Coin Coin project have received wide acclaim: Coin Coin Chapter One: Gens de Couler Libres named in multiple JazzTimes  critics lists; Coin Coin Chapter Two: Mississippi Moonchile  was called "stunning" by both the Chicago Reader & SPIN; and Coin Coin Chapter Three: River Run Thee was named among Rolling Stones's best Avant Albums of 2015. Coin Coin Chapter Four: Memphis has garnered their greatest accolades, and was included in Pitchfork's Best Experimental Albums, Bandcamp's Best Jazz Albums, and the top ten of NPR Music Jazz Critics Poll in 2019.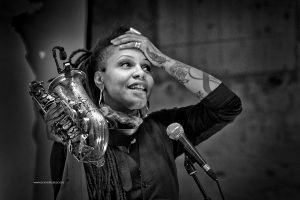 Melanie Dyer – Viola
"An outstanding modern violist." – The Strad 
Melanie Dyer is a violist who moves across free jazz, jazz, orchestral, and experimental music. She has studied with William Lincer, Lee Yeingst, John Jake Kella and Naomi Fellows. Recently she performed and recorded with William Parker, Henry Grimes, Tomeka Reid, Heroes Are Gang Leaders, New Muse 4tet, Women with an Axe to Grind, and other luminous musicians in the United States, Europe, and South Africa. She founded WeFreeStrings, a string/rhythm collective rooted in creative improvisation, and plays viola in Gwen Laster's New Muse 4tet.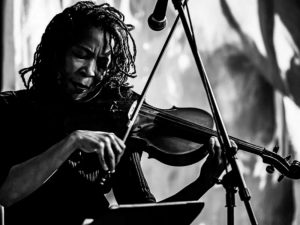 Joe Morris – Bass
"Joe Morris is the preeminent free music guitarist of his generation." –DownBeat Magazine

"One of the most profound improvisers at work in the U.S." – Wire Magazine 
Morris was born in New Haven Connecticut in 1955. He began playing guitar at the age of 14 first playing rock music, progressing to blues, then to jazz, free jazz and free improvisation. He released his first record Wraparound (riti) in 1983. He has composed over 200 original pieces of music. Morris has performed and/or recorded with many of the most important contemporary artists in improvised music including, Anthony Braxton, Evan Parker, John Zorn, Ken Vandermark, Mary Halvorson, Tyshawn Sorey, Tomeka Reid, Fay Victor, Tim Berne, William Parker, Sylvie Courvoisier, Agusti Fernandez, Peter Evans, David S. Ware, Joe Maneri, Dewey Redman, Fred Hopkins, Sunny Murray, Wadada Leo Smith, Leroy Jenkins, Lawrence D. "Butch" Morris, Marshall Allen, Barre Phillips, Barry Guy, Matthew Shipp, Gerald Cleaver, and many others.
Morris is featured as leader, co-leader, or sideman on more than 200 commercially released recordings on the labels ECM, ESPdisk, Clean Feed, Hat Hut, Aum Fidelity, Avant, OkkaDisk, Not Two, Soul Note, Leo, No Business, Rogue Art, Relative Pitch, Incus, RareNoise, Fundacja Sluchaj, and his own labels Riti and Glacial Erratic. Morris has toured extensively throughout North America and Europe as well as in Brazil, Korea and Japan.
He has lectured and conducted workshops on his own music and on improvisation in the US, Canada, and Europe including at Princeton University, Dartmouth College, Harvard University, Bard College, University of Alberta, and University of Guelph. He was the recipient of the 2016 Killam Visiting Scholar Award at University of Calgary. He has been on the faculty at Tufts University, Southern Connecticut State University, Longy School of Music of Bard College, and New School. Since 2000, he has been on the faculty in the Jazz and Contemporary Improvisation Department at New England Conservatory. Morris is the author of the book, Perpetual Frontier: The Properties of Free Music (Riti Publishing 2012).