Event
An experience of music imagined and created in real time. A journey with preconditions through waves of sonic discovery.
Check out the entire series here.
Wadada Leo Smith – Trumpet
Finalist for the 2013 Pulitzer Prize in Music for his composition Ten Freedoms of Summers (Defining Moments in the History of the United States of America).

Was named Downbeat's Composer of the Year in 2013.

Received the Doris Duke Artist award in 2016.

Received an honorary doctorate from CalArts.
Wadada Leo Smith (b. 1941) began his musical journey steeped in the musical traditions of the South. Smith received his formal musical education from his stepfather, composer/guitarist Alex "Little Bill" Wallace, one of the pioneers of electric guitar in Delta Blues. He was further educated through the U.S. Military band program at Fort Leonard Wood, Missouri (1963); Sherwood School of Music (1967-69); and Wesleyan University (1975-76). He has researched a variety of music cultures, including African, Japanese, Indonesian, European and American.
Smith defines his music as "Creative Music," and his diverse discography reveals a recorded history of music centered in the idea of spiritual harmony and the unification of social and cultural issues of his world. He has created Ankhrasmation, a symbolic image-based language for performers or musicians. He started his research and designs in search of Ankhrasmation in 1965, and his first realization of this language was in 1967, when it was illustrated in the recording of The Bell (Anthony Braxton: 'Three Compositions of New Jazz').
Smith's Ankhrasmation language scores have been exhibited in major American museums including The Renaissance Society at The University of Chicago, which in October 2015 presented the first comprehensive exhibition of these language scores. In 2016, the Hammer Museum's 'Made in L.A.' exhibition featured the scores and presented Smith with the Mohn Award for Career Achievement honoring "brilliance and resilience." His scores have also been shown at the Kalamazoo Institute of Arts in Michigan, the Kadist Art Foundation in San Francisco, The Museum of Rhythm Łódź, Poland and the Clemente Gallery in NYC.
Smith has performed and/or recorded with Anthony Braxton, Leroy Jenkins, Roscoe Mitchell, Henry Threadgill, Lester Bowie, Joseph Jarman, Cecil Taylor, Steve McCall, Anthony Davis, Carla Bley, Don Cherry, Jeanne Lee, Tadao Sawai, Muhal Richard Abrams, Ed Blackwell, Kazuko Shiraishi, Han Bennink, Marion Brown, Charlie Haden, Malachi Favors Magoustous, Jack DeJohnette, Vijay Iyer, Ikue Mori, Min Xiao Fen, Bill Laswell, John Zorn, Ronald Shannon Jackson, Frank Lowe, among many others.
Smith is a member of the historic and legendary Association for the Advancement of Creative Musicians. He is also a member of ASCAP.
Visit his website here.
Read his artist statement here.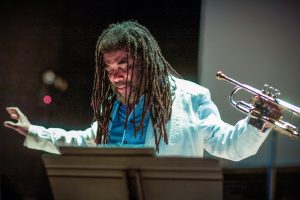 Joe Morris – Guitar
"Joe Morris is the preeminent free music guitarist of his generation." –DownBeat Magazine

"One of the most profound improvisers at work in the U.S." – Wire Magazine 
Morris was born in New Haven Connecticut in 1955. He began playing guitar at the age of 14 first playing rock music, progressing to blues, then to jazz, free jazz and free improvisation. He released his first record Wraparound (riti) in 1983. He has composed over 200 original pieces of music. Morris has performed and/or recorded with many of the most important contemporary artists in improvised music including, Anthony Braxton, Evan Parker, John Zorn, Ken Vandermark, Mary Halvorson, Tyshawn Sorey, Tomeka Reid, Fay Victor, Tim Berne, William Parker, Sylvie Courvoisier, Agusti Fernandez, Peter Evans, David S. Ware, Joe Maneri, Dewey Redman, Fred Hopkins, Sunny Murray, Wadada Leo Smith, Leroy Jenkins, Lawrence D. "Butch" Morris, Marshall Allen, Barre Phillips, Barry Guy, Matthew Shipp, Gerald Cleaver, and many others.
Morris is featured as leader, co-leader, or sideman on more than 200 commercially released recordings on the labels ECM, ESPdisk, Clean Feed, Hat Hut, Aum Fidelity, Avant, OkkaDisk, Not Two, Soul Note, Leo, No Business, Rogue Art, Relative Pitch, Incus, RareNoise, Fundacja Sluchaj, and his own labels Riti and Glacial Erratic. Morris has toured extensively throughout North America and Europe as well as in Brazil, Korea and Japan.
He has lectured and conducted workshops on his own music and on improvisation in the US, Canada, and Europe including at Princeton University, Dartmouth College, Harvard University, Bard College, University of Alberta, and University of Guelph. He was the recipient of the 2016 Killam Visiting Scholar Award at University of Calgary. He has been on the faculty at Tufts University, Southern Connecticut State University, Longy School of Music of Bard College, and New School. Since 2000, he has been on the faculty in the Jazz and Contemporary Improvisation Department at New England Conservatory. Morris is the author of the book, Perpetual Frontier: The Properties of Free Music (Riti Publishing 2012).