Event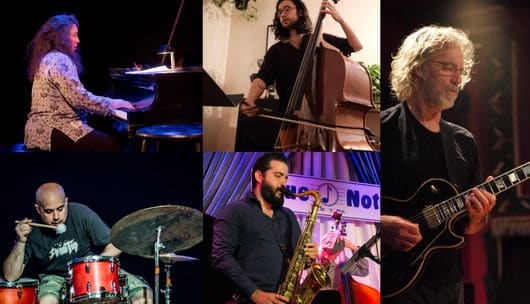 EVENTS
Improvisations Now - Sunday, Dec. 11 2:30
An experience of music imagined and created in real time. A journey with preconditions through waves of sonic discovery.
Check out the entire series here.
Angelica Sanchez – Piano
"In her piano playing as well as her compositions, Angelica Sanchez seeks out the lyrical heartbeat within any avant-garde storm…" – The New York Times 

"Sanchez's provocative writing – full of evocative harmonies and open-ended forms showcases her flair for counterpoint and marks her as a formidable talent…" – JazzTimes Magazine
Pianist/Composer/Educator Angelica Sanchez moved to New York from Arizona in 1994. Sanchez leads numerous groups, the most recent being her Nonet which features Chris Speed, Michael Attias, Thomas Heberer, Kenny Warren, Ben Goldberg, John Hebert, Omar Tamez, and Sam Ospavot.
Her music has been recognized in national and international publications including Jazz Times, The New York Times, Chicago Tribune amongst others. She was also the 2008 recipient of a French/American Chamber Music America grant, the 2011 Rockefeller Brothers Pocantico artist residency and the 2021 Civitella Fellowship, Italy.
Sanchez's debut solo CD "A Little House" was featured on NPR's Weekend Edition and her recording "Wires & Moss" featuring her Quintet was chosen as one of best Releases of 2012 in "The New York City Jazz Record (formerly AllAboutJazz-New York)."  Her recording "Twine Forest" a duo with Wadada Leo Smith received Honorable Mention as one of the best releases of 2013 in "The New York City Jazz Record." Her latest trio project "Float The Edge" features Michael Formanek and Tyshawn Sorey and has garnered wide critical acclaim.  Her new piano duo"How to Turn the Moon," with Marilyn Crispell was voted as one of the top 50 best recordings in 2020, NPR critics poll.
Angelica Sanchez has a Masters Degree in Arranging from William Paterson University. She is currently on faculty at The New School of Jazz and Contemporary Music and Princeton University.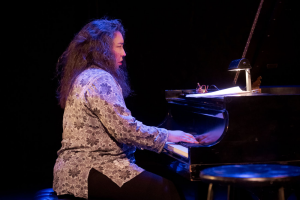 Hery Paz – Tenor, Soprano Saxophones, Clarinet
"Paz's melodic lines are made with art, his lyricism does not fit anything you anticipate listening to, having the ability to surprise." – Jazz Trail 

"Excellent…Interesting…Paz's playing is rich in varied stylistic elements and endowed with a truly remarkable expressiveness." – All About Jazz

"Hery is an excellent jazz saxophonist and a great example of crossing over artistic borders. His work inspires on several levels: imagination, discipline, intriguing and full of energy…in other words, pure beauty." – Dave Liebman, American Saxophonist
Hery Paz is a saxophonist and visual artist from Cuba. He has won the acclaim and respect of legendary jazz musicians such as Fred Hersch. Who called him "… a revelation, a musician of extraordinary strength". At the heart of his artistic vision we find a resolute dedication to expand  his cultural philosophy, crystalizing an amalgam of expressions between improvisation, visual arts and contemporary composition. His solos are imbued with a depth of purpose, a sense of patience and a willingness to venture into the unknown.
Paz is an integral element of the creative music scene in New York City where he has worked with artists such as, Fred Hersch, Dave Liebman, Thomas Morgan, George Garzone, Francisco Mela, Kris Davis, Ralph Alessi, Ethan Iverson, Miguel Zenón, Tom Rainey, Gerald Cleaver and Joe Morris… As a painter Hery is a published cover artist for IRAZÚ RECORDS, RED PIANO RECORD and PYROCLASTIC RECORDS (Kris Davis/Craig Taborn "Octopus"). In addition he was the commissioned artist for the 4th Season of the prestigious NEWVELLE RECORDS label, involving artist like Tim Berne, Dave Liebman, Hank Roberts, Kenny Werner and Bill Frisell.
EDUCATION: MA degree from the New England Conservatory (Boston) and active professor for the New England Conservatory Jazz Lab and the University of Maine Jazz Camp in Farmington.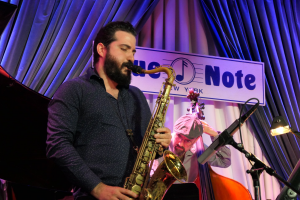 Juan Pablo Carletti – Drums
"A tuneful drummer…Carletti creates a strong platform and the next entry in his discography should be eagerly awaited." – All About Jazz

"Strongly melodic, near minimalist." – New York Jazz City Records 
Juan Pablo Carletti was born in Buenos Aires, Argentina. He grew up in a musical environment in which his father played percussion, and was instantly drawn to the drums. As he performed with a variety of bands, he focused mainly on improvised music and playing mainstream jazz. He began working with his own projects, and created a small label dedicated to new music. In 2005, Juan traveled to New York City and played with the David Haney Group at Cornelia Street Cafe. This trip was a pivotal turning point in his life, as he met influential musicians such as Mat Maneri, Tony Malaby, Mark Helias, Nasheet Waits and Tom Rainey.
One year later, he officially moved to America to continue his musical journey. Juan approaches playing in unique ways, influenced by different styles of music, especially the music created in the avant-garde scene in New York City in the last decades. Using mallets, hands, different sticks and extended techniques on drums, Juan illustrates how drums can be a rhythmic instrument as well as a palette of sounds. His teaching experiences have played a key role in transforming his rhythmic visions. Juan played with Tony Malaby, Andrew Cyrille, Daniel Levin, Mat Maneri, Chris Hoffman, Angelica Sanchez, Kris Davis, Michael Attias ,Rob Brown, Roman Filiu, Roman Diaz, Aruan Ortiz and William Parker. He is part of the Rob Brown Quartet  (record to be released) Duo with Daniel Levin, their debut record its on Out Now Records  (January 2015).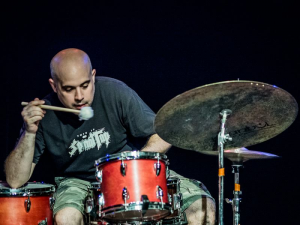 Kenneth Jimenez – Bass
"Jimenez has a compelling artistic vision." – All About Jazz
Originally from Costa Rica, Kenneth Jimenez is a bass player and composer currently based in New York City. He's performed with artists Francisco Mela, Michael Attias, Tom Rainey, Satoshi Takeishi, Angelica Sanchez, Gerald Cleaver, Ingrid Laubrock, Stephen Scott, Brian Lynch, Gary Campbell, Roxana Amed, Martin Bejerano, Jose Luis de la Paz and Emilio Solla. He was a part of the 2017 Betty Carter Jazz Ahead Program at the Kennedy Center for the Performing Arts, under the direction of renowned pianist Jason Moran. He has performed at important venues nationally and internationally. Some of those include the Millenium Stage at the Kennedy Center in Washington DC, The Jazz Gallery, Bar Lunatico, Bar Next Door and Barbes in New York City, the Olympia Theater in Miami and the National Theatre in San Jose, Costa Rica, among others.
Currently he leads two projects, "Sonnet to Silence" feat. Hery Paz, Angelica Sanchez & Gerald Cleaver, and "Sublunary Minds" feat Jim Gasior & John Yarling. The latter released its debut album in 2019, under the avant-garde independent record label Irazu Records.
He co-leads "Triangulate the landscape", a trio project comprised of drummer Francisco Mela, guitarist Drew Wesely and Kenneth on bass. Their debut album is scheduled to be released in Spring 2020. He also has two more releases scheduled for the second half of 2020; a duo project with Finnish singer Josefiina Vannesluoma and a collaborative trio project with saxophonist Hery Paz and drummer Rodolfo Zuniga.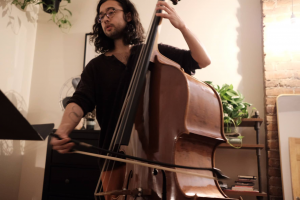 Joe Morris – Guitar
"Joe Morris is the preeminent free music guitarist of his generation." –DownBeat Magazine

"One of the most profound improvisers at work in the U.S." – Wire Magazine 
Morris was born in New Haven Connecticut in 1955. He began playing guitar at the age of 14 first playing rock music, progressing to blues, then to jazz, free jazz and free improvisation. He released his first record Wraparound (riti) in 1983. He has composed over 200 original pieces of music. Morris has performed and/or recorded with many of the most important contemporary artists in improvised music including, Anthony Braxton, Evan Parker, John Zorn, Ken Vandermark, Mary Halvorson, Tyshawn Sorey, Tomeka Reid, Fay Victor, Tim Berne, William Parker, Sylvie Courvoisier, Agusti Fernandez, Peter Evans, David S. Ware, Joe Maneri, Dewey Redman, Fred Hopkins, Sunny Murray, Wadada Leo Smith, Leroy Jenkins, Lawrence D. "Butch" Morris, Marshall Allen, Barre Phillips, Barry Guy, Matthew Shipp, Gerald Cleaver, and many others.
Morris is featured as leader, co-leader, or sideman on more than 200 commercially released recordings on the labels ECM, ESPdisk, Clean Feed, Hat Hut, Aum Fidelity, Avant, OkkaDisk, Not Two, Soul Note, Leo, No Business, Rogue Art, Relative Pitch, Incus, RareNoise, Fundacja Sluchaj, and his own labels Riti and Glacial Erratic. Morris has toured extensively throughout North America and Europe as well as in Brazil, Korea and Japan.
He has lectured and conducted workshops on his own music and on improvisation in the US, Canada, and Europe including at Princeton University, Dartmouth College, Harvard University, Bard College, University of Alberta, and University of Guelph. He was the recipient of the 2016 Killam Visiting Scholar Award at University of Calgary. He has been on the faculty at Tufts University, Southern Connecticut State University, Longy School of Music of Bard College, and New School. Since 2000, he has been on the faculty in the Jazz and Contemporary Improvisation Department at New England Conservatory. Morris is the author of the book, Perpetual Frontier: The Properties of Free Music (Riti Publishing 2012).