Event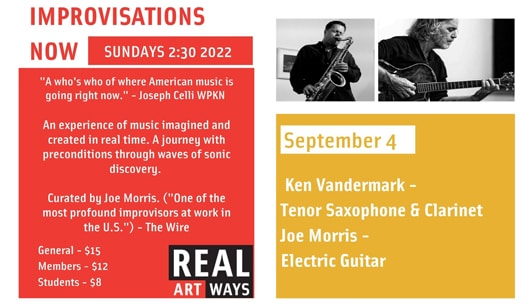 EVENTS
Improvisations Now - Sunday Sept. 4
An experience of music imagined and created in real time. A journey with preconditions through waves of sonic discovery.
Checkout the whole series!
Ken Vandermark – Tenor Saxophone & Clarinet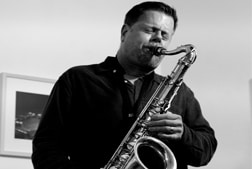 Ken Vandermark (USA 1964) is an improvising musician and composer who plays tenor and baritone saxophone, and bass clarinet. He moved to Chicago from Boston in 1989, and has worked from the early 1990s onward, both as a performer and organizer in North America and Europe, recording in an array of contexts with many internationally renowned musicians (such as Fred Anderson, Ab Baars, Peter Brötzmann, Sylvie Courvoisier, Tim Daisy, Kris Davis, Hamid Drake, Terrie Ex, Mats Gustafsson, Elisabeth Harnik, Steve Heather, Didi Kern, Kent Kessler, Christof Kurzmann, Paul Lytton, Joe McPhee, Andy Moor, Jason Moran, Ikue Mori, Joe Morris, Paal Nilssen-Love, Eddie Prevóst, Mette Rasmussen, Tom Rainey, Eric Revis, Jasper Stadhouders, Chad Taylor, John Tilbury, Mars Williams, Nate Wooley).
His current group activity includes the bands Marker, Made To Break, Lean Left, Shelter, The DKV Trio, The Eric Revis Quartet, VWCR, DEK, his large ensemble Entr'acte, the ongoing Momentum projects; duos with Terrie Ex, Christof Kurzmann, Damon Locks, Paal Nilssen-Love, Mars Williams, and Nate Wooley; and work as a solo performer. Ken co-founded Catalytic Sound in 2012, an organization dedicated to the economic sustainability of creative improvising musicians, and since then has been its director. In 2014 he began Audiographic Records, an independent music label. Since June of 2015 Ken has been co-curator of Option, a weekly music and interview series held at Experimental Sound Studio in Chicago.  Half of each year is spent touring in Europe, North America, Latin America, and Japan; his concerts and numerous recordings have been critically acclaimed at home and abroad. Ken's activity as a writer includes liner notes for a variety of recordings; and contributions to the eighth edition of John Zorn's Arcana: musicians on music, the Spanish language journal, "El Esatdo Mental," and "Catalytic Quarterly." In 1999 he was awarded a MacArthur Fellowship in music.
MORE INFO:
Facebook
Instagram: ken_vandermark
Audiographic Records
Website
Joe Morris – Electric Guitar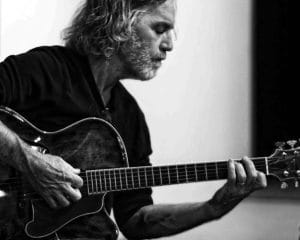 Downbeat Magazine called guitarist/composer/improviser Joe Morris, "the preeminent free music guitarist of his generation." Will Montgomery, writing in WIRE magazine, called him, "one of the most profound improvisers at work in the U.S."
He was born in New Haven Connecticut in 1955. He began playing guitar at the age of 14 first playing rock music, progressing to blues, then to jazz, free jazz and free improvisation. He released his first record Wraparound (riti) in 1983. He has composed over 200 original pieces of music.
Morris has performed and/or recorded with many of the most important contemporary artists in improvised music including, Anthony Braxton, Evan Parker, John Zorn, Ken Vandermark, Mary Halvorson, Tyshawn Sorey, Tomeka Reid, Fay Victor, Tim Berne, William Parker, Sylvie Courvoisier, Agusti Fernandez, Peter Evans, David S. Ware, Joe Maneri, Dewey Redman, Fred Hopkins, Sunny Murray, Wadada Leo Smith, Leroy Jenkins, Lawrence D. "Butch" Morris, Marshall Allen, Barre Phillips, Barry Guy, Matthew Shipp, Gerald Cleaver, and many others.
Morris is featured as leader, co-leader, or sideman on more than 200 commercially released recordings on the labels ECM, ESPdisk, Clean Feed, Hat Hut, Aum Fidelity, Avant, OkkaDisk, Not Two, Soul Note, Leo, No Business, Rogue Art, Relative Pitch, Incus, RareNoise, Fundacja Sluchaj, and his own labels Riti and Glacial Erratic. Morris has toured extensively throughout North America and Europe as well as in Brazil, Korea and Japan.
He has lectured and conducted workshops on his own music and on improvisation in the US, Canada, and Europe including at Princeton University, Dartmouth College, Harvard University, Bard College, University of Alberta, and University of Guelph. He was the recipient of the 2016 Killam Visiting Scholar Award at University of Calgary. He has been on the faculty at Tufts University, Southern Connecticut State University, Longy School of Music of Bard College, and New School. Since 2000, he has been on the faculty in the Jazz and Contemporary Improvisation Department at New England Conservatory. Morris is the author of the book, Perpetual Frontier: The Properties of Free Music (Riti Publishing 2012).