Event
An experience of music imagined and created in real time. A journey with preconditions through waves of sonic discovery.
Check out the entire series here.
Tony Malaby – Tenor and Soprano Saxophone
"One of the best saxophone players of their generation." – The New York Times 

"One of the most riveting saxophone players in Jazz." – NPR 
Tony Malaby (b. 1964) is an American jazz tenor saxophonist. He has played with several notable jazz groups, including Charlie Haden's Liberation Music Orchestra, Paul Motian's Electric Bepop Band, Mark Helia's Open Loose, Fred Hersch's Trio +2, and Walt Whitman project. He has also played with bands led by Mario Pavone, Chris Lightcap, Bobby Previte, Tom Varner, Marty Ehlrich, Angelica Sanchez, Mark Dresser, and Kenny Wheeler. Other collaborators included Tom Rainey, Christian Lillinger, Ben Monder, Elvind Opsvik, Nasheet Waits, and Michael Formanek. His first album as a co-leader was Cosas with Joey Sellers.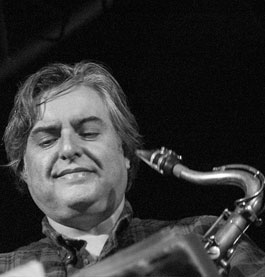 Nasheet Waits – Drums
Nasheet Waits (b. 1971) is an American jazz drummer. Waits's longstanding projects include Jason Moran & The Bandwagon, a trio with Moran, Waits, and Tarus Mateen, Tarbaby, a trio with Eric Revis and Orrin Evans, and his band Equality.
Waits has recorded or performed with Fred Hersch, Antonio Hart, Joe Lovano, Jason Moran, Andrew Hill, Ron Carter, Tony Malaby, Bunky Green, William Parker, Eddie Gomez, Casimir Liberski, John Medeski, Kurt Rosenwinkel, Mark Turner, and Amir ElSaffar.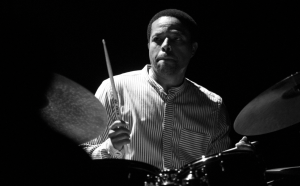 Joe Morris – Bass
"One of the most profound improvisers at work in the United States." – Wire Magazine
Morris was born in New Haven Connecticut in 1955. He began playing guitar at the age of 14 first playing rock music, progressing to blues, then to jazz, free jazz and free improvisation. He released his first record Wraparound (riti) in 1983. He has composed over 200 original pieces of music. Morris has performed and/or recorded with many of the most important contemporary artists in improvised music including, Anthony Braxton, Evan Parker, John Zorn, Ken Vandermark, Mary Halvorson, Tyshawn Sorey, Tomeka Reid, Fay Victor, Tim Berne, William Parker, Sylvie Courvoisier, Agusti Fernandez, Peter Evans, David S. Ware, Joe Maneri, Dewey Redman, Fred Hopkins, Sunny Murray, Wadada Leo Smith, Leroy Jenkins, Lawrence D. "Butch" Morris, Marshall Allen, Barre Phillips, Barry Guy, Matthew Shipp, Gerald Cleaver, and many others.
Morris is featured as leader, co-leader, or sideman on more than 200 commercially released recordings on the labels ECM, ESPdisk, Clean Feed, Hat Hut, Aum Fidelity, Avant, OkkaDisk, Not Two, Soul Note, Leo, No Business, Rogue Art, Relative Pitch, Incus, RareNoise, Fundacja Sluchaj, and his own labels Riti and Glacial Erratic. Morris has toured extensively throughout North America and Europe as well as in Brazil, Korea and Japan.
He has lectured and conducted workshops on his own music and on improvisation in the US, Canada, and Europe including at Princeton University, Dartmouth College, Harvard University, Bard College, University of Alberta, and University of Guelph. He was the recipient of the 2016 Killam Visiting Scholar Award at University of Calgary. He has been on the faculty at Tufts University, Southern Connecticut State University, Longy School of Music of Bard College, and New School. Since 2000, he has been on the faculty in the Jazz and Contemporary Improvisation Department at New England Conservatory. Morris is the author of the book, Perpetual Frontier: The Properties of Free Music (Riti Publishing 2012).