Event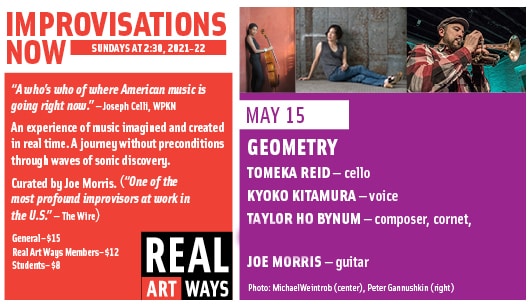 EVENTS
Improvisations Now - May 15
Checkout the whole series!
GEOMETRY
Tomeka Reid – Cello
"New Jazz Power Source"- NYTimes
Kyoko Kitamura – voice
"For this generation, Kitamura in particular continues to extend technique." – Jazz Thoughts
2019 Music Jazz Critics Pick
Taylor Ho Bynum – cornet
2019 NPR Music Jazz Critics Pick
Joe Morris – guitar
"The future of the instrument." – Hi Fi News
"As on this group's vibrant new recording, 'Geometry of Caves,' issued by the Relative Pitch imprint, Ms. Kitamura occasionally produced dramatic gusts of overtone singing through quick inhalations. By suggesting both harmony and stridency in the same moment, the arresting technique seemed a succinct representation of this ensemble's memorable approach — one in which improvisational energy never overshadows the fineness of inner details."
– New York Times
Described as a "New Jazz Power Source" by the New York Times, cellist and composer Tomeka Reid has emerged as one of the most original, versatile, and curious musicians in Chicago's bustling jazz and improvised music community over the last decade. Her distinctive melodic sensibility, always rooted in a strong sense of groove, has been featured in many distinguished ensembles over the years.
Reid grew up outside of Washington D.C., but her musical career began after moving to Chicago in 2000. Her work with Nicole Mitchell and various Association for the Advancement of Creative Musicians-related groups proved influential. By focusing on developing her craft in countless improvisational contexts, Reid has achieved a stunning musical fluency. She is a Foundation of the Arts (2019) and 3Arts Awardee (2016), and received her doctorate in music from the University of Illinois, Urbana-Champaign in 2017.
Reid released her debut recording as a bandleader in 2015, with the Tomeka Reid Quartet, a vibrant showcase for the cellist's improvisational acumen as well as her dynamic arrangements and compositional ability. The quartet's second album, Old New, released in Oct 2019 on Cuneiform Records, has been described as "fresh and transformative–its songs striking out in bold, lyrical directions with plenty of Reid's singularly elegant yet energetic and sharp-edged bow work." Another reviewer noted that "while Reid's compositional and technical gifts transcend jazz, they exemplify the tradition wondrously."
Reid has been a key member of ensembles led by legendary reedists like Anthony Braxton (ZIM SEXTET) and Roscoe Mitchell (ROSCOE MITCHELL QUARTET, ART ENSEMBLE OF CHICAGO), as well as a younger generation of visionaries including flutist Nicole Mitchell (BLACK EARTH ENSEMBLE, ARTIFACTS), vocalist Dee Alexander (EVOLUTION ENSEMBLE), and drummer Mike Reed (LOOSE ASSEMBLY, LIVING BY LANTERNS, ARTIFACTS). She co-leads the adventurous string trio HEAR IN NOW, with violinist Mazz Swift and bassist Silvia Bolognesi, and in 2013 launched the first Chicago Jazz String Summit, a semi-annual three-day international festival of cutting edge string players held in Chicago. In the Fall of 2019 Tomeka Reid received a teaching appointment at Mills College as the Darius Milhaud chair in composition.
Kyoko Kitamura is a vocal improviser, bandleader and composer based in Brooklyn, NY. She leads her ensemble Tidepool Fauna (featuring saxophonist Ingrid Laubrock, bassist Ken Filiano and drummer Dayeon Seok), co-leads Geometry (with Taylor Ho Bynum, Joe Morris, Tomeka Reid) and is an active side person with recent appearances on albums by William Parker, Cory Smythe and Russ Lossing for which she has garnered stellar reviews.
Kitamura is also known for her decade-long association with legendary musician, composer and thinker Anthony Braxton, and is featured on many of his releases including GTM (Syntax) 2017, the 12-hour recording of his vocal works performed by the Tri-Centric Vocal Ensemble which she directed and co-produced, as well as his operas Trillium E and Trillium J.
Separate from her work in music, Kitamura has had a career as a media professional. She was a reporter for Fuji Television Japan, was their foreign news correspondent based in Paris, did a stint as a Gulf War reporter in Iraq, Kuwait and Saudi Arabia and also wrote for numerous Japanese magazines. Between 2010 and 2018, she was the director of communications for Anthony Braxton's nonprofit organization, the Tri-Centric Foundation (Brooklyn, NY), and then the executive director of the same organization until April 2021.
As an educator, she teaches composition for improvisers, the business side of music and the application of musical creativity to other real-life situations. She has taught and led workshops at various institutions including Dartmouth College, Face the Music (Kaufman Music Center), Arts for Art's Visionary Youth Orchestra and The New School. Kitamura is scheduled to be a visiting faculty at Bennington College in spring 2022.
Kyoko studied piano at Juilliard Pre-College with Ms. Jane Carlson, and privately studied counterpoint and Schoenberg harmony with Mr. Paul Caputo. She was born in NYC (U.S.A.), raised partially in Tokyo (Japan), spent a few summers in Melbourne (Australia), lived and worked for many years in Paris (France), currently resides in Brooklyn, NY (U.S.A.).
Taylor Ho Bynum (b. 1975) has spent his career navigating the intersections between structure and improvisation – through musical composition, performance and interdisciplinary collaboration, and through production, organizing, teaching, writing and advocacy. Bynum's expressionistic playing on cornet and his expansive vision as composer have garnered him critical attention on over twenty recordings as a bandleader and dozens more as a sideman. Recent releases on the Firehouse 12 Records label include the 4-album set "Navigation" (2013) with his Sextet and 7-tette, and "Enter the Plustet" (2016), the debut recording of his 15-piece creative orchestra. "The Ambiguity Manifesto", featuring Bynum's 9-tette, was released in 2019 and celebrated as one of the top releases of the year in the NPR Jazz Critics Poll. He is also recognized for his "Acoustic Bicycle Tours", where he travels to concerts solely by bike across thousands of miles.
Current collective projects include his long-running duo with drummer Tomas Fujiwara, Illegal Crowns (with Fujiwara, Mary Halvorson, and Benoit Delbecq) and Geometry (with Kyoko Kitamura, Tomeka Reid, and Joe Morris). Other well-documented projects have included Bynum's SpiderMonkey Strings, Masters of Ceremony (an interdisciplinary dance/music quartet with Rachel Bernsen, Melanie Maar, and Abraham Gomez-Delgado), Positive Catastrophe (a 10-piece Latin free-jazz band co-led with Gomez-Delgado), and the collective ensembles the Thirteenth Assembly (Fujiwara, Halvorson, and Jessica Pavone), the Convergence Quartet (Alexander Hawkins, Dominic Lash, and Harris Eisenstadt), and Book of Three (John Hebert and Gerald Cleaver). Bynum's two decades of work with Anthony Braxton is recognized as one of the most generative partnerships of that legendary composer's career, with projects ranging from duos to orchestras and everything in between. During Bynum's stewardship of the Tri-Centric Foundation (which he served as executive director from 2010-2018), he produced many major Braxton projects, including two massive Trillium operas, two immersive Sonic Genome performances, and multiple festivals. He has also worked closely with such departed masters as Bill Dixon and Cecil Taylor, with other recent sideman credits including Nels Cline, Ensemble Musikfabrik, Tomas Fujiwara, Jim Hobbs, Jason Kao Hwang, Ingrid Laubrock, Bill Lowe, Nicole Mitchell, Wadada Leo Smith, and Yo La Tengo.
In 2017, Bynum became the director of the Coast Jazz Orchestra at Dartmouth College, where he also teaches composition, improvisation, and music history. He regularly travels to conduct explorations of new creative orchestra music, with works premiered by the Scottish BBC Symphony Orchestra and the Tri-Centric Orchestra, and has taught at universities and workshops worldwide. Bynum's writing has been published in the New Yorker, Point of Departure and Sound American, and he has served as a panelist, board member and consultant for arts organizations and individual artists. He is the co-founder of the Firehouse 12 Records label, a former curator for the Festival of New Trumpet Music, and a board member for the New England Foundation for the Arts. His work has received support from Creative Capital, the Connecticut Office of the Arts, Chamber Music America, New Music USA, USArtists International, the Herb Alpert Foundation, and the Doris Duke Charitable Foundation.