Event
An experience of music imagined and created in real time. A journey with preconditions through waves of sonic discovery.
Check out the entire series here.
Ingrid Laubrock- Tenor Saxophone
Ingrid Laubrock (b. 1970) is a German jazz saxophonist, who primarily plays tenor saxophone but also performs and records on soprano, alto, and baritone saxophones. In 1998, she released her first solo album Who Is It? and was nominated for the 'Rising Star of the Year' award at the 1999 BT Jazz Awards. She was also nominated for the BBC Award 'Rising Star' in 2005 and in 2009 won the SWR Jazz Award for her recording Sleepthief, featuring pianist Liam Noble and drummer Tom Rainey (her husband). They recorded a 2011 album called The Madness of Crowds.
She has played and recorded with Brazilian singer Monica Vasconcelos' band NÓIS and the Brazilian quartet NÓIS4 of which she is a founding member. Other musicians she has made guest appearances with include Kenny Wheeler, Norma Winstone, Polar Bear, Siouxsie and the Banshees, Scott Fields, and Anthony Braxton.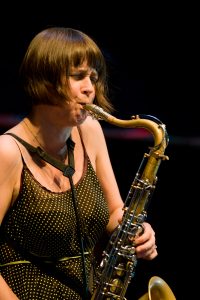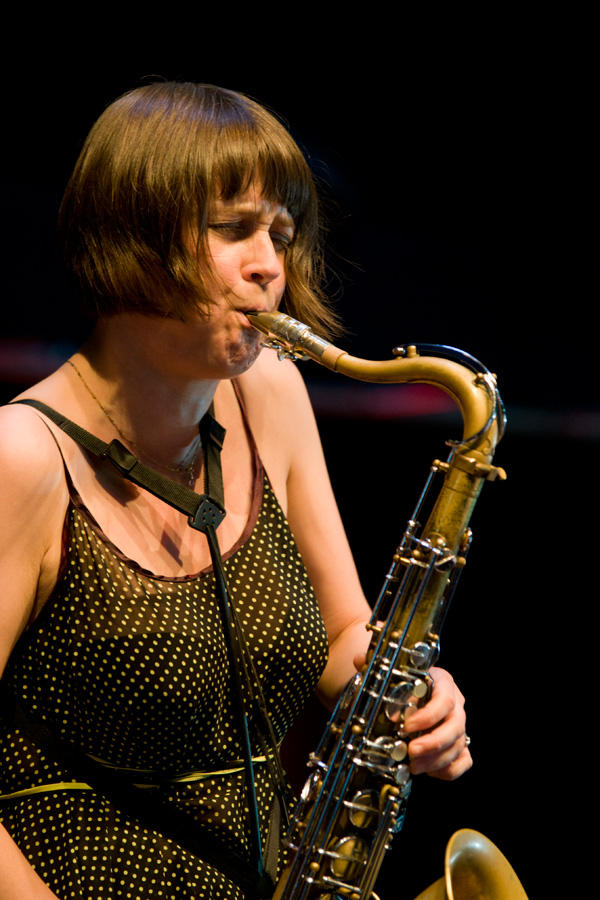 Tom Rainey – Drums
Tom Rainey (b. 1957) is an American jazz drummer. He has played with Tim Berne, Nels Cline, Drew Gress, Mark Helias, Fred Hersch, Tony Malaby, Simon Nabatov, Tom Varner, and Kenny Werner. Rainey worked with Berne in the 1990s and 2000s in the bands Big Satan, Hard Cell, Paraphrase, and Science Friction. After thirty years as a sideman, he released his first album, Pool School (Clean Feed, 2010) in a trio with guitarist Mary Halvorson and saxophonist Ingrid Laubrock.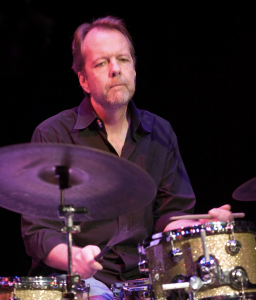 Brandon Lopez – Bass
Brandon Lopez (b. 1988) is a composer and bassist working at the fringes of jazz, free improvisation, noise and new music. His music has been praised as "brutal" (Chicago Reader) and "relentless" (The New York Times).
Lopez has worked beside many luminaries of jazz, classical, poetry, and experimental music, including Fred Moten, John Zorn, Okkyung Lee, Ingrid Laubrock, Tony Malaby, Tyshawn Sorey, Bill Nace, Chris Potter, Edwin Torres, Tom Rainey, Cecilia Lopez, Sun Ra Arkestra, Susan Alcorn, Mette Rasmussen, and many others.
As a 2019–2020 Artist in Residence at Roulette, Lopez will play with his trio consisting of Gerald Cleaver, & Steve Baczkowski, a 4tet adding Cecilia Lopez, as well as a solo performance and duet with Greg Kelley. This continues Lopez's work as 2018 Artist-in-Residence at Issue Project Room and 2018 Van Lier Fellow at Roulette Intermedium, Recent highlight performances include opening the 2018–2019 season of the New York Philharmonic as a featured soloist in Ashley Fure's "Filament" and a number of works with John Zorn, including the Zorn's 35th anniversary of "Cobra".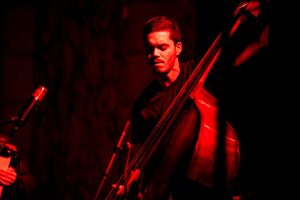 Joe Morris – Guitar
Morris was born in New Haven Connecticut in 1955. He began playing guitar at the age of 14 first playing rock music, progressing to blues, then to jazz, free jazz and free improvisation. He released his first record Wraparound (riti) in 1983. He has composed over 200 original pieces of music. Morris has performed and/or recorded with many of the most important contemporary artists in improvised music including, Anthony Braxton, Evan Parker, John Zorn, Ken Vandermark, Mary Halvorson, Tyshawn Sorey, Tomeka Reid, Fay Victor, Tim Berne, William Parker, Sylvie Courvoisier, Agusti Fernandez, Peter Evans, David S. Ware, Joe Maneri, Dewey Redman, Fred Hopkins, Sunny Murray, Wadada Leo Smith, Leroy Jenkins, Lawrence D. "Butch" Morris, Marshall Allen, Barre Phillips, Barry Guy, Matthew Shipp, Gerald Cleaver, and many others.
Morris is featured as leader, co-leader, or sideman on more than 200 commercially released recordings on the labels ECM, ESPdisk, Clean Feed, Hat Hut, Aum Fidelity, Avant, OkkaDisk, Not Two, Soul Note, Leo, No Business, Rogue Art, Relative Pitch, Incus, RareNoise, Fundacja Sluchaj, and his own labels Riti and Glacial Erratic. Morris has toured extensively throughout North America and Europe as well as in Brazil, Korea and Japan.
He has lectured and conducted workshops on his own music and on improvisation in the US, Canada, and Europe including at Princeton University, Dartmouth College, Harvard University, Bard College, University of Alberta, and University of Guelph. He was the recipient of the 2016 Killam Visiting Scholar Award at University of Calgary. He has been on the faculty at Tufts University, Southern Connecticut State University, Longy School of Music of Bard College, and New School. Since 2000, he has been on the faculty in the Jazz and Contemporary Improvisation Department at New England Conservatory. Morris is the author of the book, Perpetual Frontier: The Properties of Free Music (Riti Publishing 2012).