Event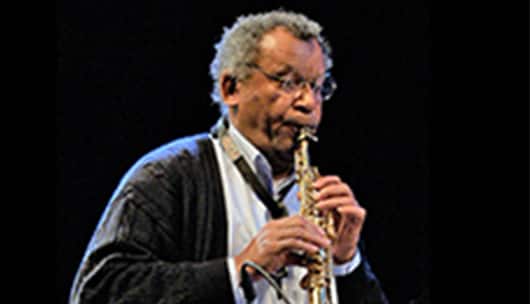 ARTS
Improvisations Now - Anthony Braxton
An experience of music imagined and created in real time. This series runs from September 2023-May 2024.
October's Performance:
Anthony Braxton – Alto Saxophone
Anthony Braxton (b. 1945 in Chicago), is an American composer as well as sax, clarinet, flute, and piano player. He has created a large body of highly complex work, having released well over 100 albums of his works since the 1960's.
Braxton is recognized as one of the most important musicians, educators, and creative thinkers of the past 50 years, highly esteemed in the creative music community for the revolutionary quality of his work and for the mentorship and inspiration he has provided to generations of younger musicians. Drawing upon a disparate mix of influences from John Coltrane to Karlheinz Stockhausen to Native American music, Braxton has created a unique musical system that celebrates the concept of global creativity and our shared humanity.
His work examines core principles of improvisation, structural navigation and ritual engagement-innovation, spirituality and intellectual investigation. His many accolades include a 1981 Guggenheim Fellowship, a 1994 MacArthur Fellowship, a 2013 Doris Duke Performing Artist Award and a 2014 NEA Jazz Master Award.
Braxton studied at the Chicago School of Music and at Roosevelt University. One of the first Black abstract musicians to acknowledge a debt to contemporary European art music, Braxton is known as much as a composer as an improviser. The output ranges from solo pieces to For Four Orchestras, a work work that has been described as "a colossal work, longer than any of Gustav Mahler's symphonies and larger in instrumentation than most of Richard Wagner's operas."
Braxton is the founding Artistic Director of the newly incorporated Tri-Centric Foundation, Inc., a New York-based not-for-profit corporation including an ensemble of some 38 musicians, four to eight vocalists, and computer-graphic video artists assembled to perform his compositions.
Braxton is also an Emeritus professor at Wesleyan University, one of the world's centers of world music. His teaching career, begun at Mills College in Oakland, California, has become as much a part of his creative life as his own work, and includes training and leading performance ensembles and private tutorials in his own music, computer and electronic music, and history courses in the music of his major musical influences, from the Western Medieval composer Hildegard of Bingen to contemporary masters with whom he himself has worked (e.g. Cage, Coleman).
Braxton's name continues to stand for the broadest integration of such oft-conflicting poles as "creative freedom" and "responsibility," discipline and energy, and vision of the future and respect for tradition in the current cultural debates about the nature and place of the Western and African-American musical traditions in America. His newly formed New York-based ensemble company is bringing to that debate a voice that is fresh and strong, still as new as ever even as it takes on the authority of a seasoned master.
To learn more about Anthony Braxton and the Tri-Centric Foundation, please click here.
Joe Morris – Guitar
"One of the most profound improvisers at work in the United States." – Wire Magazine
Morris was born in New Haven Connecticut in 1955. He began playing guitar at the age of 14 first playing rock music, progressing to blues, then to jazz, free jazz and free improvisation. He released his first record Wraparound (riti) in 1983. He has composed over 200 original pieces of music. Morris has performed and/or recorded with many of the most important contemporary artists in improvised music including, Anthony Braxton, Evan Parker, John Zorn, Ken Vandermark, Mary Halvorson, Tyshawn Sorey, Tomeka Reid, Fay Victor, Tim Berne, William Parker, Sylvie Courvoisier, Agusti Fernandez, Peter Evans, David S. Ware, Joe Maneri, Dewey Redman, Fred Hopkins, Sunny Murray, Wadada Leo Smith, Leroy Jenkins, Lawrence D. "Butch" Morris, Marshall Allen, Barre Phillips, Barry Guy, Matthew Shipp, Gerald Cleaver, and many others.
Morris is featured as leader, co-leader, or sideman on more than 200 commercially released recordings on the labels ECM, ESPdisk, Clean Feed, Hat Hut, Aum Fidelity, Avant, OkkaDisk, Not Two, Soul Note, Leo, No Business, Rogue Art, Relative Pitch, Incus, RareNoise, Fundacja Sluchaj, and his own labels Riti and Glacial Erratic. Morris has toured extensively throughout North America and Europe as well as in Brazil, Korea and Japan.
He has lectured and conducted workshops on his own music and on improvisation in the US, Canada, and Europe including at Princeton University, Dartmouth College, Harvard University, Bard College, University of Alberta, and University of Guelph. He was the recipient of the 2016 Killam Visiting Scholar Award at University of Calgary. He has been on the faculty at Tufts University, Southern Connecticut State University, Longy School of Music of Bard College, and New School. Since 2000, he has been on the faculty in the Jazz and Contemporary Improvisation Department at New England Conservatory. Morris is the author of the book, Perpetual Frontier: The Properties of Free Music (Riti Publishing 2012).
For more information, please visit their website.